La campaña de Kering para terminar la violencia de género contra la mujer, llamada The White Ribbon, este año ha contado con la participación de los diseñadores Alessandro Michele, Christopher Kane, Stella McCartney, Joseph Altuzarra y la actriz Salma Hayek.
Para crear conciencia las mujeres del grupo, Stella McCartney y Salma Hayek, dejan de lado sus nombres y pasan a ser simplemente "ella" como una manera de solidarizarse con todas las mujeres del mundo y dar a entender de que todas las mujeres pueden sufrir violencia de género.
Por otro lado, los hombres cambiaron sus nombres por el que sus padres les habrían dado si hubiesen nacido mujeres. Es así como Alessandro Michele, pasa a ser "Camilla", Christopher Kane es "Christine" y Joseph Altuzarra se convierte "Juliette". "Preguntarle a mis padres qué nombre habrían escogido si hubiera nacido como una niña fue una revelación", dice Altuzarra. "Es exasperante pensar que, como Juliette, podría haber sido menos segura o menos poderosa. Las mujeres no son un sexo menor. Debemos asegurarnos de que nunca sean tratadas como tales".
Todos tenemos derecho a ser tomados en cuenta y nuestro género no debería influenciar en eso; debemos luchar por un mundo libre de violencia y esforzarnos por concientizar a todos.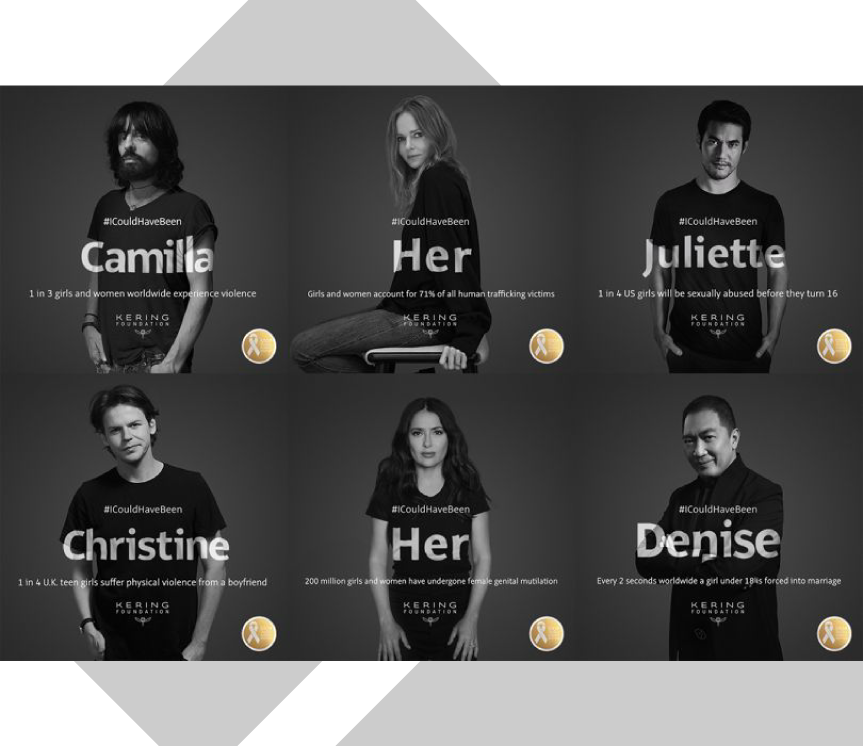 //////////
The Kering campaign to end gender violence against women, called The White Ribbon, this year has counted with the participation of designers Alessandro Michele, Christopher Kane, Stella McCartney, Joseph Altuzarra and actress Salma Hayek.
To raise awareness the women of the group, Stella McCartney and Salma Hayek, put aside their names and become simply "her" as a way to show solidarity with all the women of the world and to imply that all women can suffer genre violence.
On the other hand, men changed their names to what their parents would have given them if they had been born a girl. This is how Alessandro Michele, becomes "Camilla", Christopher Kane is "Christine" and Joseph Altuzarra becomes "Juliette". "Asking my parents what name they would have chosen if I had been born a girl was an eye-opener," says Altuzarra. "It is exasperating to think that, as Juliette, I could have been less safe or less powerful. Women are not a lesser sex. We must ensure they are never treated as such."
We all have the right to be taken into account and our gender should not influence that; We must fight for a world free of violence and strive to raise awareness among all.