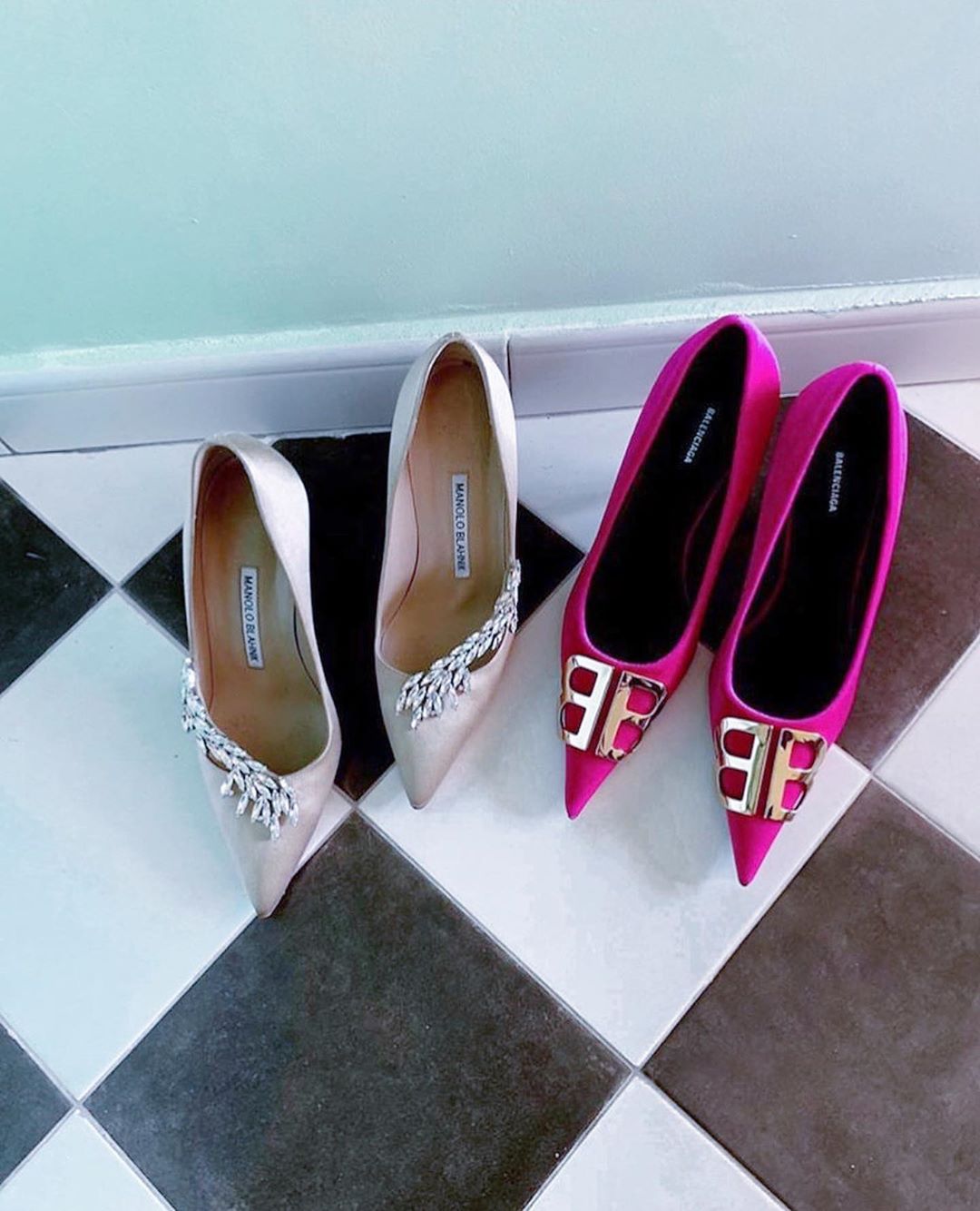 Balenciaga
Fundada en 1918 por el diseñador español Cristóbal Balenciaga, a la venerada casa francesa de Balenciaga se le atribuye la redefinición de la silueta femenina a lo largo de los años 50. Ofreciendo creaciones que fueron completamente radicales para la época, Balenciaga es responsable de algunas de las formas más populares utilizadas en el diseño de moda femenina en la actualidad. La leyenda estadounidense Alexander Wang continúa con la tradición de impulsar el diseño, pero, al igual que Cristóbal, nunca se aparta de la elegante y elegante sensibilidad que sustenta todas las creaciones. Esculpe un look sofisticado y elegante que habla de glamour sutil y bien cuidado con su fabulosa gama de tacones Balenciaga.
Manolo Blahnik
Fabricando zapatos desde 1971, el diseñador mundialmente reconocido y galardonado con múltiples premios Manolo Blahnik es un ícono en la industria del calzado. Manolo Blahnik es sinónimo de tacones pumps sofisticados con una inyección de color audaz. El estimado diseñador de zapatos lanzó su marca homónima en 1974 después de conocer a Diana Vreeland, quien le aconsejó que siguiera una carrera en diseño de zapatos cuando vio sus ahora famosas ilustraciones. Desde entonces, la etiqueta se ha vuelto internacionalmente reconocida, basándose en su oferta de estiletos distintiva con una amplia gama de tacones 'asesinos' que siempre están impregnados de color, humor y drama. Los pumps varían desde las puntas de los pies hasta los stilettos estampados.
---
Balenciaga
Founded in 1918 by Spanish designer Cristóbal Balenciaga, the revered French house of Balenciaga is credited with re-defining the female silhouette throughout the 50s. Offering creations that were completely radical for the time, Balenciaga is responsible for some of the most popular shapes used in female fashion design today. American legend Alexander Wang today carries on the tradition for pushing the design envelope, but like Cristóbal himself, never departs from the elegant and ladylike sensibility which underpins all creations. Sculpt a sophisticated and chic look that speaks of well-groomed, subtle glamour with his fabulous range of Balenciaga heels.

Manolo Blahnik
Crafting shoes since 1971, world-renowned and multi award-winning designer Manolo Blahnik is an icon in the footwear industry. Look to Manolo Blahnik for sophisticated pumps with a bold color injection. The esteemed shoe designer launched his eponymous label in 1974 after meeting Diana Vreeland who advised him to pursue a career in shoe design when she saw his now famous illustrations. The label has since become internationally recognized, building on its signature stiletto-offering with a diverse range of 'killer' heels that are always imbued with color, humor and drama. Pumps vary from point toe courts to popping print stilettos.