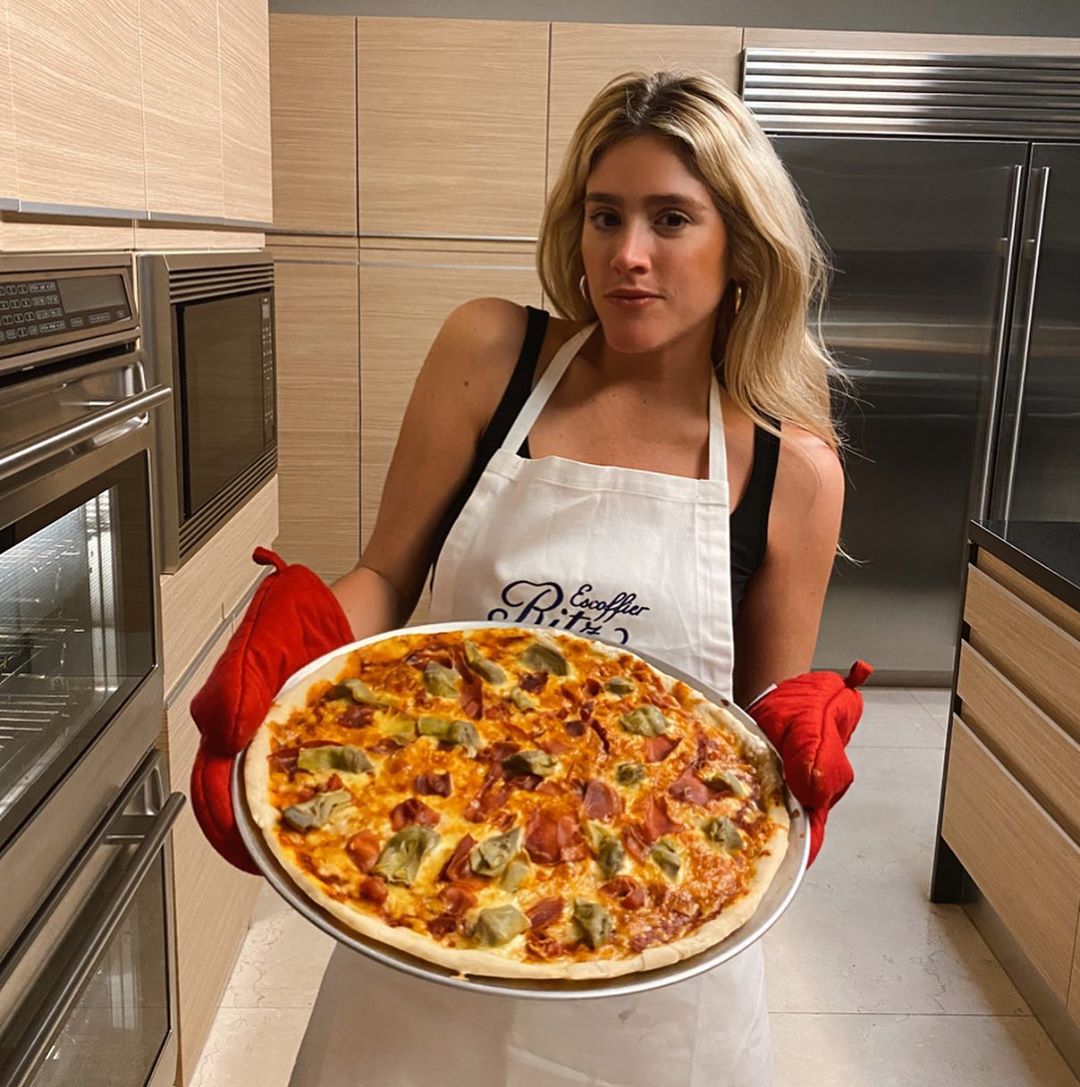 Amo la pizza, es una de mis cosas favoritas; Últimamente mi familia y yo hemos estado disfrutando haciéndolas y hemos llegado a desarrollar la receta perfecta. Así que quiero compartir nuestra receta, se las dejo a continuación:
Ingredientes:
500 g de harina de pizza (o medio de harina 00 y medio de harina blanca fuerte)
10 g de levadura fresca (o 7 g de instantánea)
½ cucharadita de azúcar
320 ml de agua tibia
1 cucharadita de sal
Toppings a tu gusto
Aceite de oliva y harina de sémola, para servir
Preparación:
Mezcle la levadura y el azúcar y déjalo por 1 minuto. Revuelva en el agua, luego agregue a la harina y mezcle en un procesador de alimentos a la velocidad más baja durante aproximadamente 4 minutos, hasta que se forme una masa suave. Agregue la sal y luego aumente ligeramente la velocidad y mezcle durante otros 4 minutos. Alternativamente, mézclelos con una cuchara de madera, luego ponga la masa sobre una superficie de trabajo, agregue la sal y amase durante 10 minutos.
Coloca la masa en un tazón grande, ligeramente engrasado, y voltea para cubrir. Cubre con un paño húmedo o una película adhesiva y déjelo en un lugar cálido durante cuatro horas.
Divide la masa en trozos del tamaño de un satsuma y forma bolas en la superficie de trabajo con la palma de tu mano. Coloque una bandeja para hornear ligeramente engrasada, cubra y almacene en un lugar fresco hasta que esté listo para cocinar (si no deseas usarla toda, la masa debe mantenerse en este punto durante aproximadamente quince días si está bien sellado, pero no lo dividas hasta que la vayas a usar).
Encienda el horno a su nivel más alto y agregue su piedra para pizza, terracota o bandeja para hornear pesada. Deje calentar durante aproximadamente una hora para asegurarse de que no haya absolutamente ningún punto frío.
Espolvorea una superficie de trabajo con un poco de harina y ponle una bola de masa. Aplanarlo con la mano, luego golpear el aire con las yemas de los dedos. Levántelo hasta la punta de los dedos y gírelo, estirándolo a medida que avanza hasta que esté lo más delgado posible, dejando un anillo más grueso de masa alrededor de los bordes.
Deslícese sobre una bandeja para hornear sin borde o una paleta de pizza espolvoreada con sémola y, trabajando lo más rápido posible, agregue los ingredientes y una llovizna de aceite de oliva. Deslícese sobre la superficie caliente y cocine durante aproximadamente 8 minutos, vigilándolos, hasta que estén crujientes y dorados. Devorar de inmediato.
---
I love pizza, it is one of my favorite things; Lately my family and I have been enjoying making them and we have come to develop the perfect recipe. So down below I leave you ours:
Ingredients:
500g pizza flour (or half 00 flour and half strong white flour)
10g fresh yeast (or 7g instant dried, made up as on packet)
½ tsp sugar
320ml warm water
1 tsp salt
Your chosen toppings
Olive oil and semolina flour, to serve
Preparation:
Mash together the yeast and sugar and leave for 1 minute. Stir into the water, then add to the flour and mix in a food processor on the lowest speed for about 4 minutes, until it comes together into a soft dough. Add the salt and then turn the speed up slightly and mix for another 4 minutes. Alternatively, mix them together with a wooden spoon, then turn the dough out on to a work surface, add the salt, and knead for 10 minutes.
Put the dough into a large, lightly oiled bowl, and turn over to coat. Cover with a damp cloth, or cling film, and leave in a warm place for four hours.
Divide the dough into satsuma-sized pieces and roll into balls on the worksurface using the palm of your hand. Put on a lightly-oiled baking tray, cover and store somewhere cool until you're ready to cook (if you don't want to use it all, the dough should keep at this point for about a fortnight if properly sealed, but don't divide it up until you're going to use it).
Turn the oven to its highest setting, and add your seasoned (a new stone should come with seasoning instructions) pizza stone, terracotta or heavy baking tray. Allow to heat for about an hour to make sure there are absolutely no cold spots.
Dust a worksurface with a little flour and put a ball of dough on to it. Flatten it using your hand, then knock the air out of it with your fingertips. Lift it up on to your fingertips and rotate it, stretching it out as you go until it's as thin as possible, leaving a thicker ring of dough around the edges.
Slide on to a rimless baking tray or pizza paddle dusted with semolina, and, working as quickly as possible, add the toppings and a drizzle of olive oil. Slide on to the hot surface and cook for about 8 minutes, keeping an eye on them, until crisp and golden. Devour immediately.