Para los Juegos Olimpicos de 1980, Adidas diseñó uniformes con las tres rayas características de la marca para el equipo Soviético y desde entonces ésta ha tenido un lugar especial en los corazones de los rusos. Los trajes deportivos Adidas con un sello distintivo del estilo urbano ruso; por lo que la colaboración de la marca con el diseñador de Moscú, Gosha Rubchinskiy, no ha sido una sorpresa.
La colección debutó en Yekaterinburg, Rubchinskiy con diseños inspirados en el fútbol, y llevando la lealtad por la marca a un nuevo nivel. Durante la muestra un modelo, vestido con una sudadera adornada con la palabra "Россия", que se traduce a Rusia, caminó por la pasarela con la cabeza bien afeitada a excepción de un sello de cabello en forma de icónico logotipo de Adidas.
Aunque un éxito instantáneo en Instagram, no hace falta decir que este corte de cabello no es para todos. Pero, seamos realistas, con la logomanía alcanzando un punto álgido, una muestra de apoyo de la marca por medio de una afeitadora eléctrica ciertamente no está fuera del alcance de las posibilidades.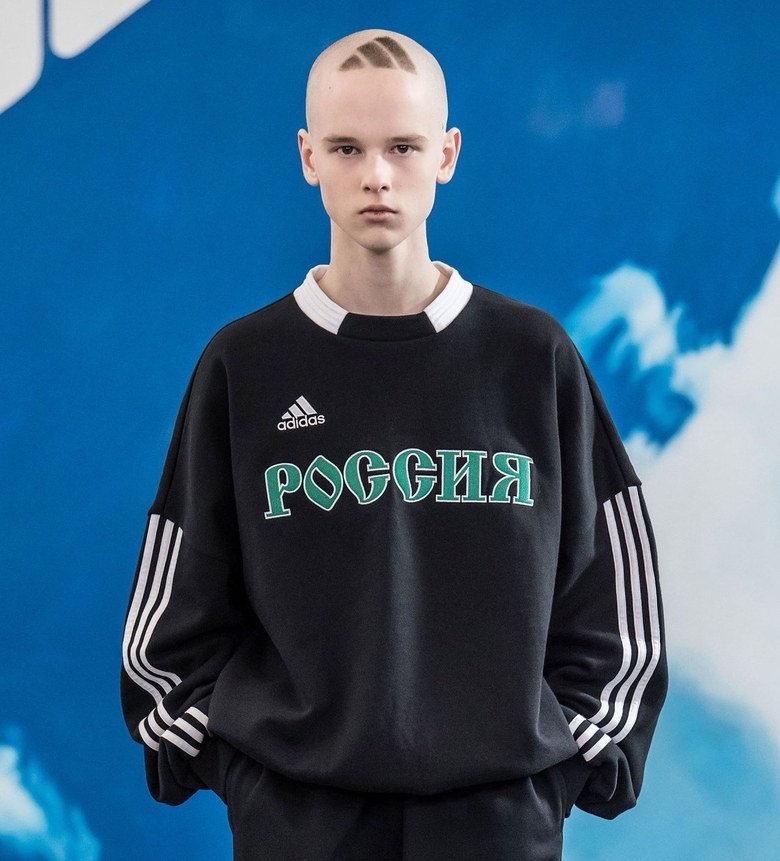 //////////
For the 1980 Olympic Games, Adidas designed tripled-striped uniforms for the Sovietic team and since then it had a special place in the hearts of the Russians. Adidas sports suits are a hallmark of Russian urban style; so the brand collaboration with the Moscow designer, Gosha Rubchinskiy, has not been a surprise.
The collection debuted in Yekaterinburg, Rubchinskiy with designs inspired by football and taking the loyalty for the brand to a new level. During the show a model, dressed in a sweatshirt adorned with the word "Россия", which translates to Russia, walked down the runway with a clean-shave head except for a hair stamp in the form of the Adidas logo.
Although an instant hit on Instagram, it goes without saying that this haircut is not for everyone. But, let's face it, with logomania reaching a peak, a show of brand support by the means of an electric razor is certainly not beyond the scope of possibilities.