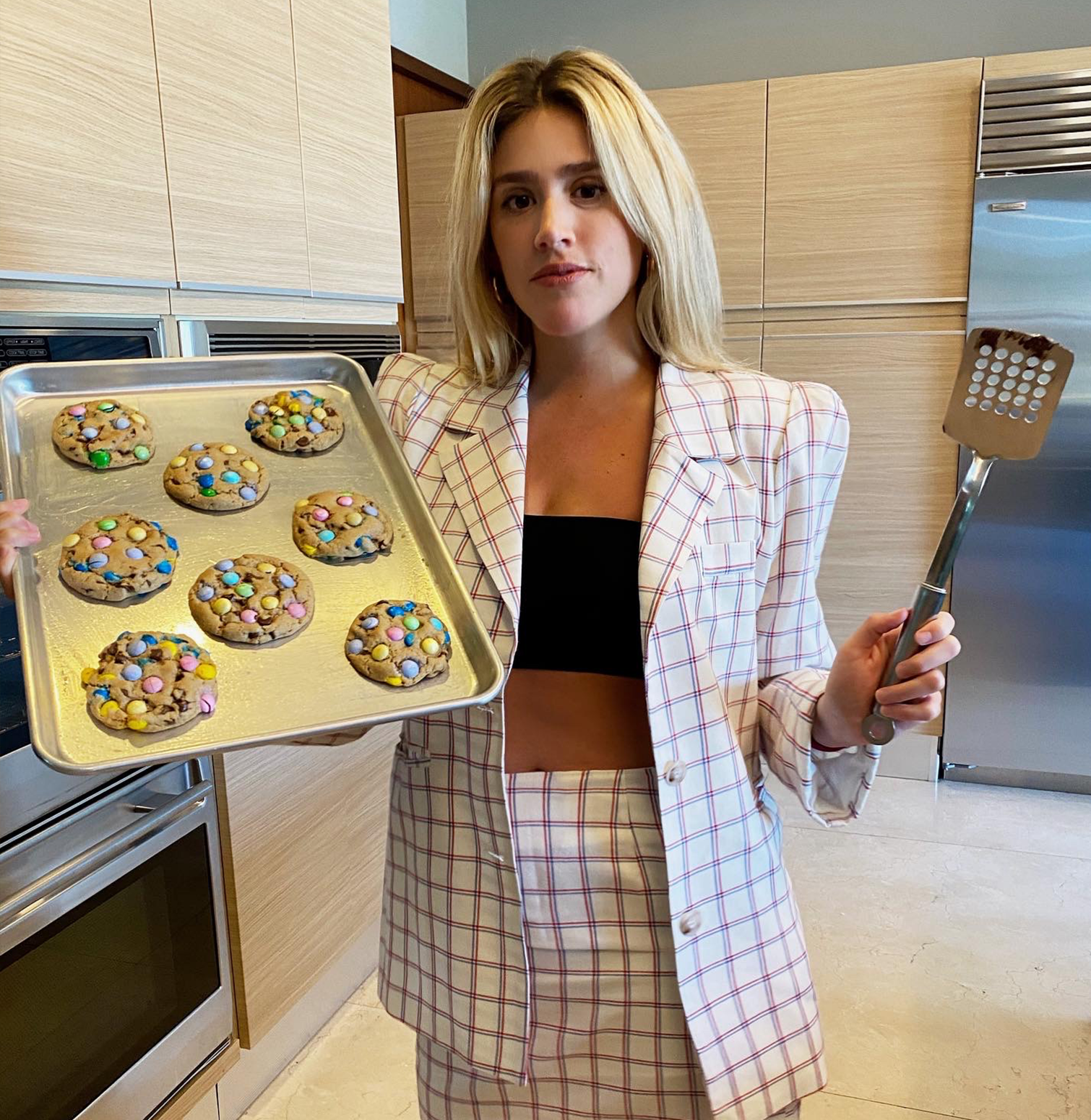 Originarias de EE.UU., Las galletas de chispas de chocolate han conquistado el mundo, hay una gran cantidad de recetas entre las que puedes elegir: suaves, desmenuzables, pegajosas … la sensación es siempre la misma, dulces con un profundo sabor a chocolate.
Las galletas con chispas de chocolate tienen un lugar especial en los corazones de todos, así que para Pascua elegí darles un giro especial. Esta receta es simple e infalible, quedarán perfectas siempre, así que no importa la ocasión o incluso si eliges dejar de lado los M&M de Pascua, terminarás con un delicioso postre para compartir.
Ingredientes:
1 o 2 barras de mantequilla
¾ taza azúcar morena
¾ taza azúcar granulada
1 huevo
2 tazas harina
1 cdta. sal
1 cdta. vainilla
1 cdta. bicarbonato
1 cdta. royal
½ cdta. agua
1 taza chocochips y M&M's
1 taza M&M's para decorar
Procedimiento:
Se precalienta el horno a 350 °F.
Agregar en un bowl la mantequilla, el azúcar morena y el azúcar granulada, batir con batidora hasta que quede cremoso y se agregar el huevo, vainilla y agua.
En otro bowl unificar la harina, sal, bicarbonato y royal. Ya mezclado, agregarlo a la otra mezcla y batir a mano.
Agregar y mezclar la taza de chocholate chips y M&M's.
En una charola engrasada con mantequilla, se hacen pequeñas bolitas de masa, separadas una de otras. Ya que están todas, meter al horno entre 10-12 minutos. Colocar los M&M's restantes para adornar.
Las dejas enfriar y ¡listo!
---
Originally from USA, chocolate chips cookies have conquered the world there are a plethora of recipes you can choose from: chewy, crumbly, gooey… the feeling is always the same, sweet with a profound taste of chocolate.
Chocolate chip cookies have a special place in everyone's hearts so for Easter I chose to give them a twist for the holiday. This recipe is simple and infallible, it'll give you the perfect ones every time, so no matter the occasion or even if you choose to leave the Easter M&M's out you'll end up with a delicious dessert to share.
Ingredients:
1 o 2 stick unsalted butter
¾ cup brown sugar
¾ cup granulated sugar
2 eggs
2 cups flour
1 tsp salt
1 tsp vanilla
1 tsp baking soda
1 tsp royal
1/2 tsp water
1 cup chocolate chips and M&M's
1 cup M&M's plus to decorate
Step to step:
Preheat oven to 350 °F.
Cream butter and sugars together in a large mixing bowl. Beat in the egg, vanilla and water until thoroughly combined.
Whisk together flour, salt, baking soda and royal in a small bowl. Gradually add the flour mixture to the first mixture, until combined.
Fold in chocolate chips and M&M's.
Place cookie dough balls on a tray with some butter and bake them for 10 to 12 minutes. Add the extra M&M's to decorate.
Let cookies cool for several minutes and enjoy!