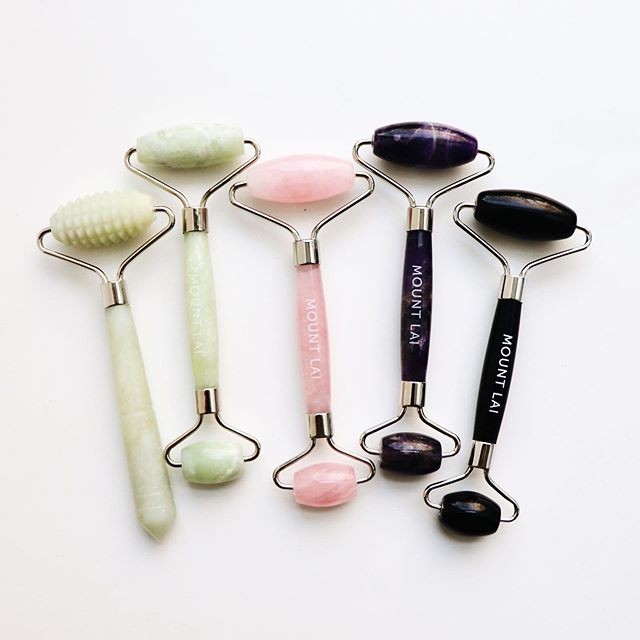 Cuidar la piel es el paso número uno para que te veas más joven. En la búsqueda de la belleza eterna, hay dispositivos que prometen una piel firme, suave y más tersa: los rodillos faciales.
Es una herramienta tan simple de usar, pero sus beneficios son maravillosos. El face rolling funciona en muchos niveles, desde estimular el flujo sanguíneo para obtener más nutrientes y oxígeno a su piel, hasta drenar el líquido y dar un masaje de tejido profundo. Además, las piedras se mantienen naturalmente frías, por lo que el rolling por la mañana activa la circulación y ayuda a calmar la inflamación y el enrojecimiento.
Por lo general, están hechos de jade, pero también hay cuarzo rosa, amatista … Estos cristales tienen beneficios especiales; de efectos calmantes a curativos.
Cualquiera que sea el rodillo facial que utilices, la clave es rodar hacia arriba en una dirección, nunca hacia arriba y hacia abajo. Repita hasta cinco veces en cada área: primero rueda hacia afuera debajo de la línea de la mandíbula, luego hacia afuera debajo del pómulo, luego a lo largo. Finalmente, rodar a lo largo de las cejas (si se usa frío, esto es ideal para aliviar un dolor de cabeza), luego hacia arriba en la frente.
---
Taking care of the skin is the number one step to keep yourself looking younger. In the search for eternal beauty, there's on gadget that promise tight, soft and a firmer skin: face rollers.
These are such a simple tool to use but its benefits are wonderful. Face rolling works on so many levels, from stimulating blood flow so you get more nutrients and oxygen to your skin, to draining fluid, to giving a deep-tissue massage. Also, the stones stay naturally cold, so rolling in the morning gets the circulation going and helps calm inflammation and redness.
They are usually made of jade but there are also rose quartz, amethyst… These crystal have some special benefits; from calming to healing effects.
Whichever face roller you use, the key is to roll upwards in one direction, never up and down. Repeat up to five rolls in each area: first roll outwards under the jawline, then out under the cheekbone, then along it. Finally, roll flat along the brows (if used chilled, this is great for a headache), then upwards on the forehead.