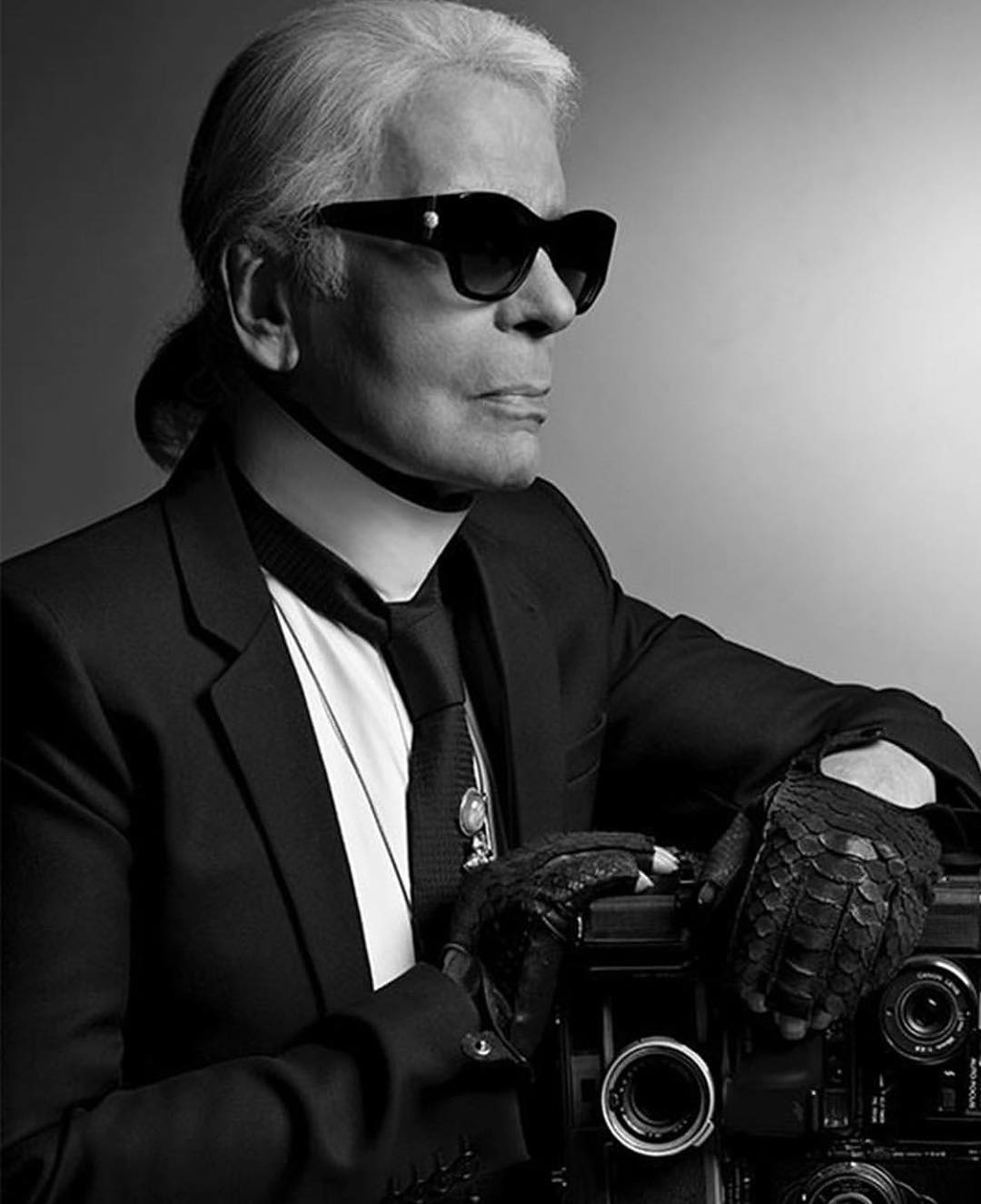 Karl Otto Lagerfeld nació el 10 de septiembre de 1933, en Hamburgo, Alemania. Su padre, Christian Lagerfeld, era miembro de una familia de banqueros sueca e hizo su fortuna al introducir la leche en polvo en Alemania. Su madre, Elizabeth Bahlmann, era miembro de una familia noble alemana.
En 1953 emigró a Paris y en 1955, a los 22 años, Lagerfeld fue premiado con un puesto de trabajo en la casa de modas Pierre Balmain, tras haber ganado un concurso patrocinado por el Secretariado Internacional de Lana.
Karl Lagerfeld se hizo un nombre como creador independiente, colaborando con una variedad de diferentes casas de moda como Pierre Balmain (1955-1958), Jean Patou (1958-1963), Chloé (1963-1978 y 1992-1997), Fendi (1974-actualidad) y Chanel (1983-actualidad). Además, en 1974 fundó su propia marca, llamada Karl Lagerfeld, con la cual ha lanzó al mercado perfumes y líneas de ropa.
Como fotógrafo, produjo "Visonaire 23: The Emperor's New Clothes", una serie de fotografías de desnudos del modelo sudafricano David Miller. En 1996, recibió el premio de cultura de la asociación alemana de fotografía. En otoño de 2009, Lagerfeld fotografió a Bill Kaulitz de Tokio Hotel para la Vogue alemana. En 2010, fue el fotógrafo elegido para el tradicional Calendario Pirelli de 2011, en el cual convirtió a las modelos (entre ellas, la actriz Julianne Moore) en personajes mitológicos; e incluyendo por primera vez desnudos masculinos en el calendario.
Hoy, su partida deja un gran vacío en el mundo de la moda, un icono que pasó a la historia rodeado de glamour y sofisticación.
Indeed  a true icon.
***
Karl Otto Lagerfeld was born on September 10, 1933, in Hamburg, Germany. His father, Christian Lagerfeld, was a member of a Swedish bankers family and made his fortune by introducing milk powder in Germany. His mother, Elizabeth Bahlmann, was a member of a noble German family. 
In 1953 he emigrated to Paris and in 1955, at the age of 22, Lagerfeld was awarded a job at Pierre Balmain fashion house, after winning a contest sponsored by the International Wool Secretariat.
Karl Lagerfeld made his name as an independent creator, collaborating with a variety of different fashion houses such as Pierre Balmain (1955-1958), Jean Patou (1958-1963), Chloé (1963-1978 and 1992-1997), Fendi (1974-present) and Chanel (1983-present). In addition, in 1974 he founded his own brand, called Karl Lagerfeld, with which he launched perfumes and clothing lines on the market.
As a photographer, he produced "Visonaire 23: The Emperor's New Clothes," a series of nude photographs of South African model David Miller. In 1996 he received the German photography association's culture prize. In 2009, Lagerfeld photographed Tokio Hotel's Bill Kaulitz for German Vogue. In 2010, he was the photographer chosen for the traditional 2011's Pirelli Calendar, where he transformed models (among them, the actress Julianne Moore) into mythological characters; including for the first-time male nudes in the calendar.
Today, his passing has left a great void in the fashion world, an icon that made history surrounded by glamour and sophistication.
Indeed a true icon.