Luego de que varios diseñadores, entre ellos Alexander Wang, Proenza Schouler, Rodarte y Altuzarra, decidieran retirarse de las pasarelas del NYFW de este año, el vacío dejado ha resultado en una sorprendente muestra por parte de la conjunción de algunas grandes marcas con otras que antes se veían opacadas por los grandes de la moda.
Es así como entre los mejores desfiles de la temporada están la actuación musical de Telfar Clemens, Eckhaus Latta y Vaquera. En el otro extremo del espectro está Raf Simons, de Calvin Klein, cuyo espectáculo imaginativo puso el listón alto, con ropa inventiva y a juego. Conoce un poco más sobre estos desfiles a continuación:
Calvin Klein
Raf Simons dejó los límites de su taller de costura para su tercer show de Calvin Klein; su alucinante muestra de pradera post-apocalíptica dejó una huella masiva. La Bolsa de Valores de Estados Unidos se cubrió con tres semi-remolques llenos de palomitas de maíz, y fue sede de un desfile de moda de chaquetas y botas de bombero. Sin embargo, a pesar de toda la moda conceptual, había una belleza silenciosa en los vestidos de gasa hechos con parches y en las mantas que hacían juego. Muchos suéteres geniales, que mezclaron la especialidad con la simplicidad.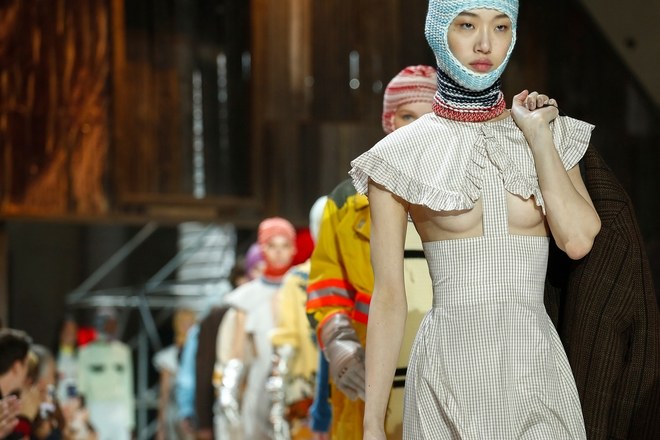 Telfar Clemens
Telfar Clemens está reescribiendo el libro de jugadas de diseño; es posible que se haya llevado a casa el primer premio en el CFDA / Vogue Fashion Fund en noviembre pasado, pero definitivamente esto no se le ha subido a la cabeza. La actuación musical que montó estuvo fabulosa y más ingeniosa estuvo la forma en que le pidió a los fanáticos que votaran exactamente por las piezas que debería producir de la colección.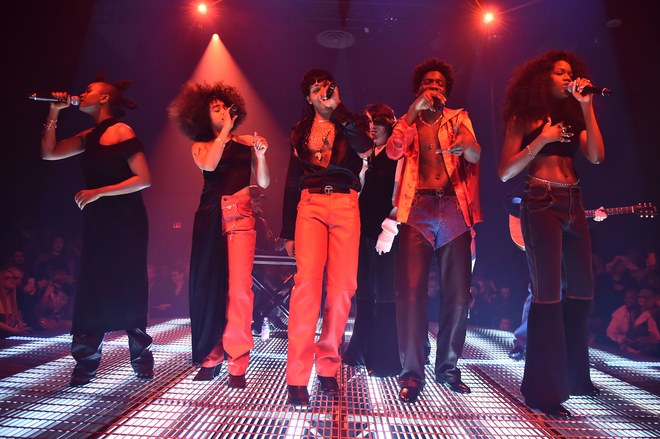 Eckhaus Latta
Mike Eckhaus y Zoe Latta han estado produciendo sus shows fuera de la red por unos años, pero esta es la temporada en la que los holdouts finalmente decidieron unirse al NYFW. La primera fila estaba bien abastecida con espectadores de ambos lados del Atlántico. Eckhaus Latta realizó una invitación a recortar los vestidos de jersey, y mostraron sus tejidos experimentales e intencionalmente ingenuos; lo mejor de todo, fue su gama amplia de jeans fabulosos.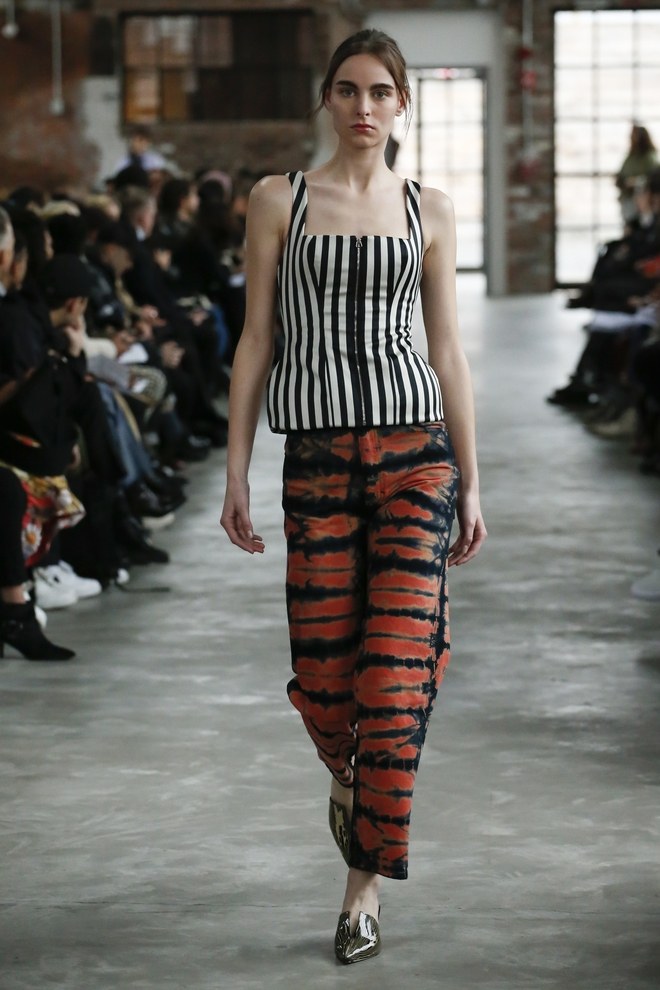 //////////
After several designers, including Alexander Wang, Proenza Schouler, Rodarte and Altuzarra, decided to retire from the NYFW catwalks this year, the gap left has resulted in a surprising showing by the conjunction of some major brands with others that before were overshadowed by bigger fashion designers.
Thus, among fashion shows of this season are the musical performance of Telfar Clemens, also Eckhaus Latta and Vaquera. At the other end of the spectrum is Raf Simons, from Calvin Klein, whose imaginative show set the bar high, with inventive and matching clothing. Learn a little more about these runway shows below:
Calvin Klein
Raf Simons left the limits of his sewing workshop for his third Calvin Klein show; his hallucinatory sample of post-apocalyptic meadow left a massive mark. The United States Stock Exchange was covered with three semi-trailers full of popcorn and was the venue for a fashion show of fireman's jackets and boots. However, despite all the conceptual fashion, there was a silent beauty in the gauze dresses made with patches and matching blankets. Many great sweaters, which mixed the specialty with simplicity.
Telfar Clemens
Telfar Clemens is rewriting the design playbook; It is possible that he took home the first prize in the CFDA / Vogue Fashion Fund last November, but this has definitely not gone to his head. The musical performance he set was fabulous and more ingenious was the way he asked the fans to vote exactly for the pieces that he should produce from the collection.
Eckhaus Latta
Mike Eckhaus and Zoe Latta have been producing their shows off the network for a few years, but this is the season in which the holdouts finally decided to join the NYFW. The first row was well supplied with spectators from both sides of the Atlantic. Eckhaus Latta made an invitation to cut out jersey dresses, and showed her experimental and intentionally naive fabrics; Best of all, it was his wide range of fabulous jeans.