Las tostadas con aguacate son una opción deliciosa que puede servir de desayuno así como también para una merienda. Existen sin numero de combinaciones que puedes probar, pero entre las que yo más disfruto están las siguientes:
Tostada de aguacate con tocino y huevos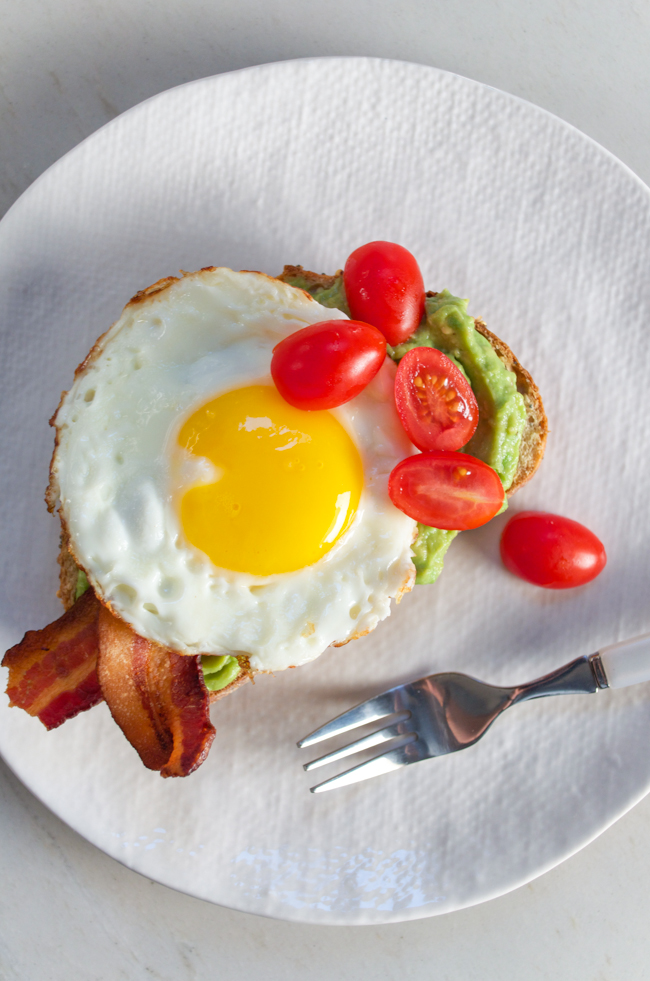 1 rebanada pan multigrano
4 rebanadas de tocino
½ aguacate grande
½  cucharadita de sal
½  cucharadita de pimienta negra recién molida
1 huevo
4 tomates cherry, cortados por la mitad
En una sartén fríe el huevo y luego las rebanadas de tocino. Por otro lado, tuesta la rebanada de pan. A continuación, en un tazón mediano aplasta el aguacate hasta hacerlo puré. Sobre la rebanada de pan esparce el aguacate, y coloca encima el tocino, el huevo, los tomates y espolvorea con sal y pimienta al gusto.
Tostada de aguacate y pomelo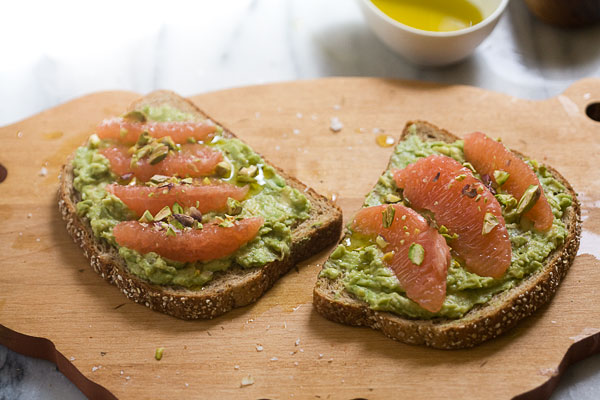 1 rebanada de pan
½  pomelo
½  aguacate
Aceite de oliva
Sal marina
Saca los gajos del pomelo y resérvalos. Mientras se tuesta el pan, tritura el aguacate en un tazón para hacerlo puré. A continuación unta la rebanada de pan con el aguacate, coloca los gajos de pomelo por encima, échale un chorrito de aceite de oliva y espolvorea con la sal marina.
Tostada de aguacate con queso de cabra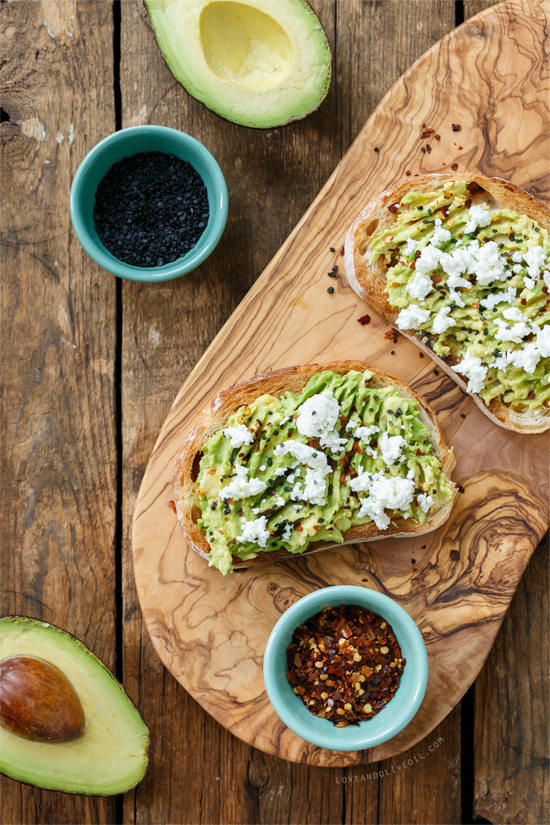 1 rebanada de pan
½ aguacate maduro
¼  taza de queso de cabra desmenuzado
Aceite de oliva virgen extra
Hojuelas de pimienta roja
Sal marina
Tuesta el pan hasta que quede dorado y crujiente. Luego, tritura el aguacate con un tenedor y colócalo sobre la rebanada de pan. A continuación, cúbrela con el queso de cabra desmenuzado. Rocía con aceite de oliva, espolvorea con las hojuelas de pimienta y sal marina al gusto.
//////////
An avocado toast is a delicious option that can serve as breakfast as well as a snack. There are endless number of combinations you can try, but among those that I enjoy the most are the following:
Avocado toast with bacon and eggs
1 multigrain bread slice
4 slices of bacon
½ large avocado
½ teaspoon of salt
½ teaspoon of freshly ground black pepper
1 egg
4 cherry tomatoes, cut in half
In a pan fry the egg and then the slices of bacon. On the other hand, toast the slice of bread. Then, in a medium bowl, mash the avocado until pureed. On the slice of bread spread the avocado, and place on top the bacon, the egg, the tomatoes and sprinkle with salt and pepper to taste.
Avocado and grapefruit toast
1 slice of bread
½ grapefruit
½ avocado
Olive oil
Sea salt
Take the grapefruit segments and reserve them. While the bread is toasting, mash the avocado in a bowl to puree it. Then spread the slice of bread with the avocado, place the grapefruit segments on top, pour a little olive oil and sprinkle with the sea salt.
Avocado toast with goat cheese
1 slice of bread
½ ripe avocado
¼ cup of shredded goat cheese
Extra virgin olive oil
Red pepper flakes
Sea salt
Toast the bread until golden and crispy. Then, mash the avocado with a fork and place it on the slice of bread. Next, cover it with the shredded goat cheese. Sprinkle with olive oil, sprinkle with pepper flakes and sea salt to taste.