¡Feliz inicio de semana! Te invito a recrear estos looks otoñales basados en blazers que aportan estructura a tu silueta. Notarás cómo transmites el poder femenino. Lo que me encanta de los blazers es lo fácil que es combinarlos; mejoran cada outfit ya sea casual o formal. Me siento en la película 'Pretty Woman' caminando por Rodeo Drive con los blazers que te dejo a continuación. Te recomiendo usarlos con basics y mucha joyería o ponerte aún más creativa para formar un outfit que atraiga miradas.
I encourage you to recreate these autumn looks inspired by blazers. They give such structure to your silhouette. You will also notice how much you transmit the women power. What I love most about blazers is how easy it is to combine them. They make every outfit better whereas it is casual or formal. I feel inside the film 'Pretty Woman', walking down Rodeo Drive with the following blazers. I recommend wearing them with basics and lots of jewelry. Keep playing, mix-and-matching to create an outfit that makes everyone stare.
LEE MÁS: EL TRIUNFO DEL ESTILO MILITAR
Estampado
Te comparto mi pieza statement para el otoño: un blazer estampado. Dale un toque de tu personalidad al look con tu estampado preferido. Recuerda que al contar con una pieza statement, es recomendable combinarla con piezasbásicas o menos extravagantes. Esto te permitirá lucir el blazer de la manera correcta e impecable. Una t-shirt blanca y unos jeans son la opción perfecta. Así mismo, me encanta complementar mi look con las botas chunky del momento.
I share with you my statement piece for this autumn: a printed blazer. Give the look a touch of your personality with your favorite print. I recommend pairing a statement piece with some basics or less extravagant garments. This way, your outfit will look polished and well structured. A white t-shirt and cool jeans are the perfect option. Also, I adore complementing my look with the chunky boots of the moment.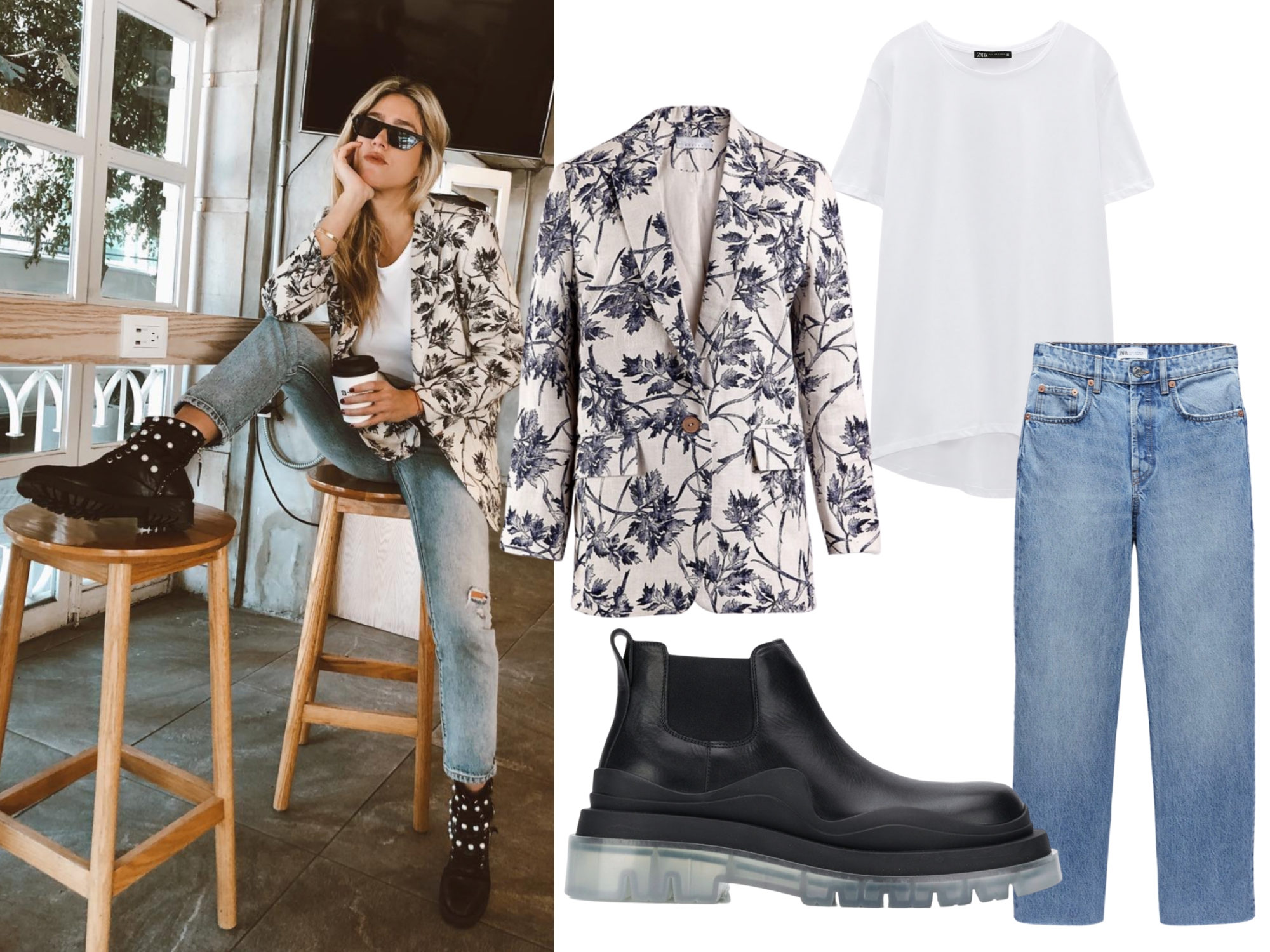 Encuentra los jeans aquí. Encuentra la camisa aquí. Encuentra el blazer aquí. Encuentra las botas aquí.
Uniforme
Llevemos el look de un blazer estampado a algo más formal y sofisticado. La creatividad permanece amplia y libre. Encuentra la combinación de colores que más te gusta en un patrón de cuadros; te dejo estas opciones infalibles. Decidí combinarlo con un par de jeans blancos straight o acampanados y unos botines negros de tacón que transmiten dicha formalidad. Amo usar este blazer cada temporada de otoño.
Let's take the printed blazer look to a more formal and sophisticated level. Nevertheless, creativity remains wide and fun. Find the color combination that you like the most in a plaid pattern. Here are some infallible options for you. I decided to pair it with some white straight jeans and black heeled ankle boots that imply such formality. I love wearing this blazer every autumn season.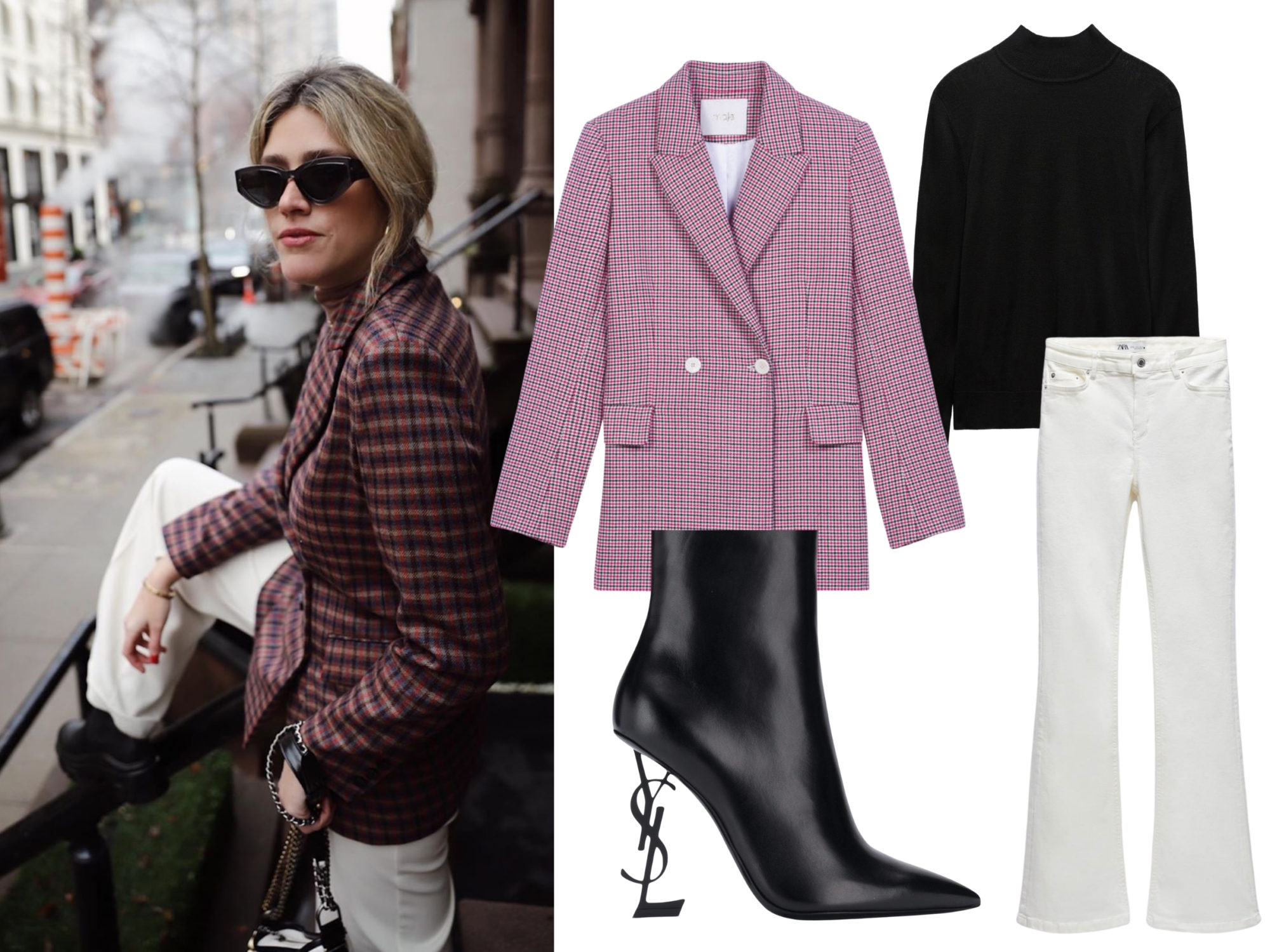 Encuentra el sweater aquí. Encuentra el blazer aquí. Encuentra los jeans aquí. Encuentra los botines aquí.
LEE MÁS: LAS PIEZAS 'STATEMENT' QUE DEBES TENER ESTE OTOÑO
Business Woman
Me encanta usar tendencias de décadas anteriores que prevalecen en nuestra contemporaneidad. Este look está conformado por piezas atemporales como la camisa blanca, un saco oversized y un par de botas negras. Un traje elegante en blanco y negro es ideal para todas las chicas de ciudad. Complementé mi look con el bolso Locky BB de Louis Vuitton. Así mismo, te dejo una alternativa divina y accesible que va perfecto con el outfit.
I adore wearing trends from the last decades that prevail in our contemporaneity. This look is made of timeless pieces such as a pair of black boots, a white button shirt and an oversized blazer. A white and black suit is every city girl's ideal outfit. I added the lovely Locky BB purse signed by Louis Vuitton. Although, here is a gorgeous and affordable alternative that goes perfectly with it.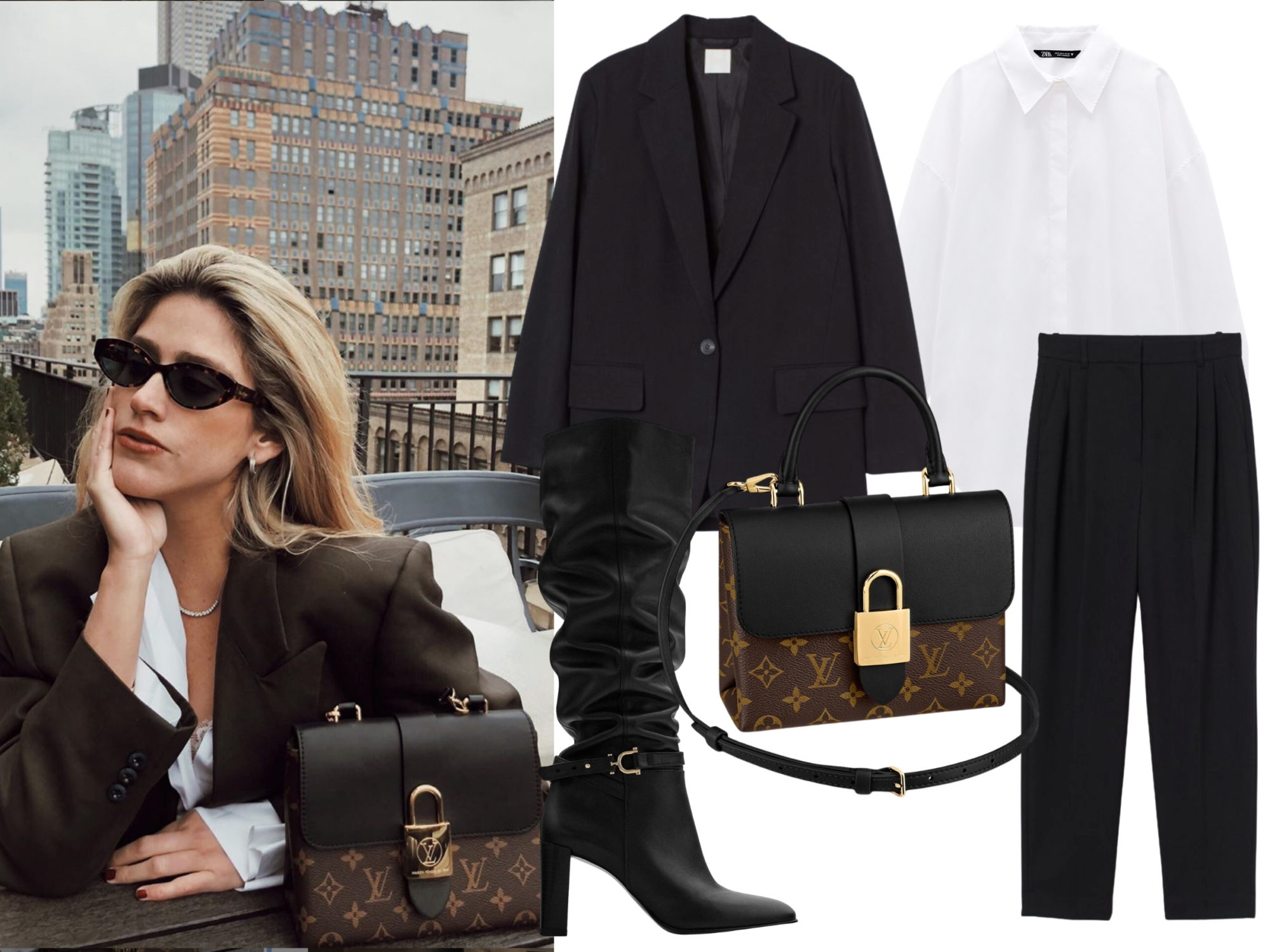 Encuentra la camisa aquí. Encuentra el blazer aquí. Encuentra el pantalón aquí. Encuentra las botas aquí. Encuentra la bolsa aquí.
XOXO