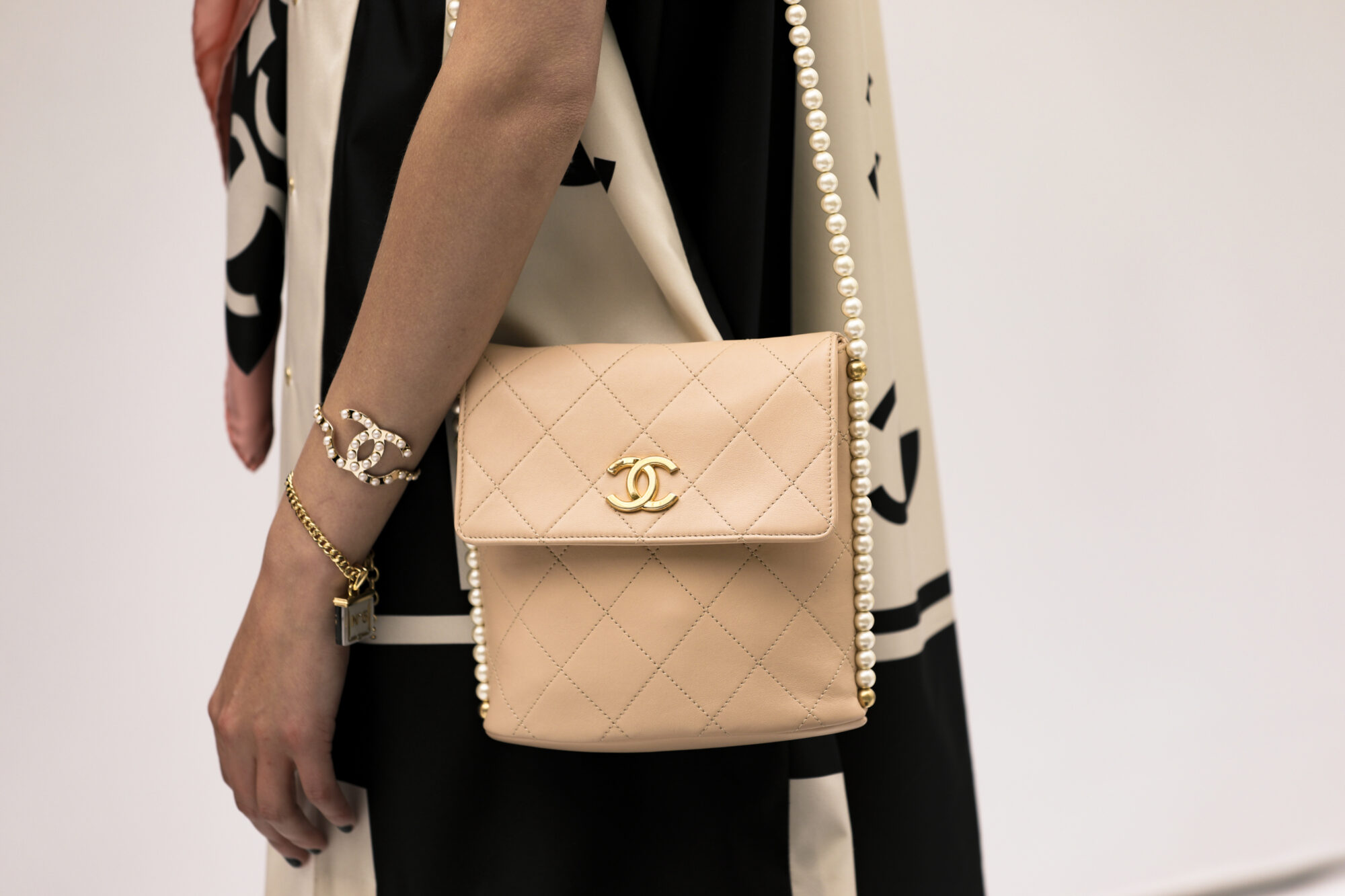 Chanel celebra su tradición de Diciembre al exhibir una nueva colección dedicada a su Fashion Métiers d'art. La Directora Artística de las colecciones de moda, Virginie Viard destaca el valor del equipo artesano que hace posible la expresión de la personalidad tan única de Chanel. La colección Primavera-Verano 2020/21 exhibe una esencia gótica fusionada con la evocación contemporánea del Château de Chenonceau. Detalles como un par de guantes negros con encaje blanco fueron presentados ante su musa y embajadora, la actriz Kirsten Stewart.
Chanel celebrates its December tradition with a new collection dedicated to the House's Fashion Métiers d'art. The Artistic Director of Fashion collections, Virginie Viard highlights the value of the artisan team that expresses the unique personality of Chanel. The Spring Summer 2020/21 collection exhibits a gothic soul fused with the contemporary evocation of the Château de Chenonceau. Details like a black pair of gloves with white lace are presented to her muse and ambassador, Kirsten Stewart.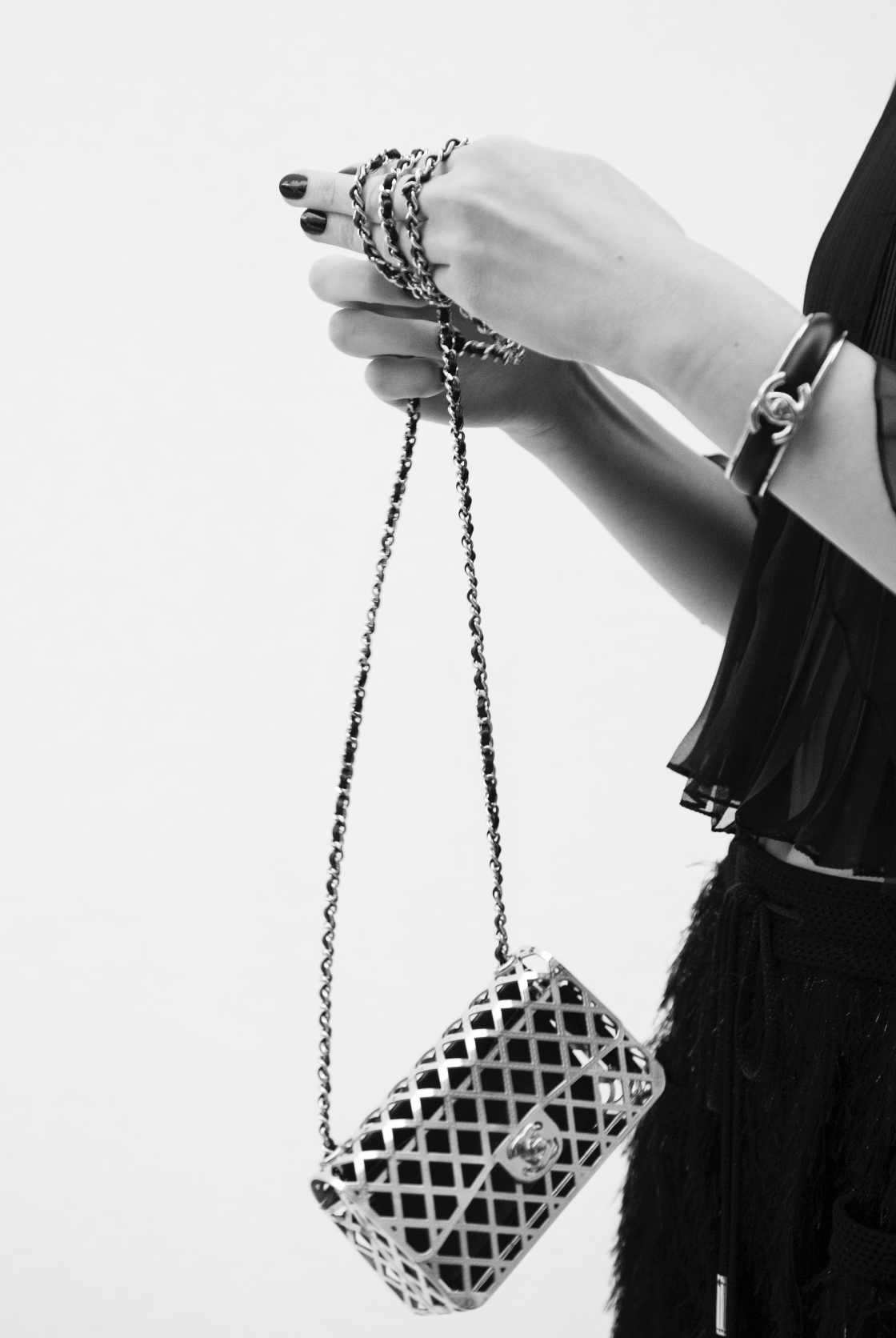 Chanel Primavera Verano 2020/21: Las tendencias que usaremos
Amé ver una nueva edición dorada de los icónicos slingbacks de punta negra, ahora con tacón negro. Chanel nos demuestra que nunca es suficiente dorado, por lo que combina estos zapatos con una chamarra de tweed la cual posee detalles de piel infalibles. Debo mencionar el complemento perfecto a este look: una mini falda de lentejuelas que revela un patrón de cuadros blanco y negro, inspirada en el piso de la galería. Esta dualidad de tonos opuestos manifiesta la esencia clásica y elegante de la firma francesa.
I loved spotting the new golden edition of the iconic black toed slingbacks, now with a black heel. Chanel tells us there is no such thing as "too much gold". Thus, la maison pairs these shoes with a golden tweed jacket with fur details. I must mention the perfect complement to such look: a sequin mini skirt that unveils a chequered pattern inspired by the floor of the grand gallery.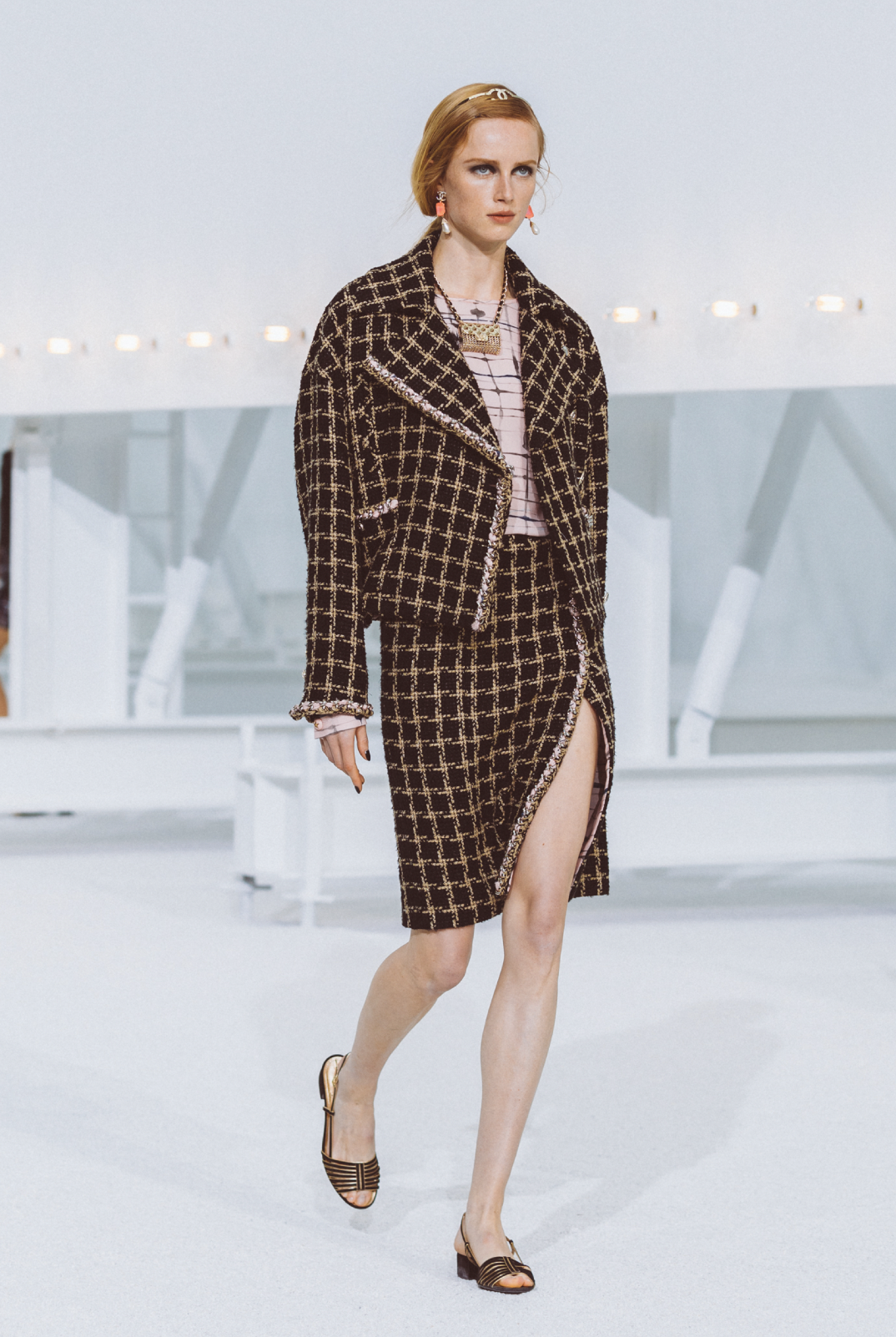 La firma francesa se une a la tendencia masculina-femenina y nos trae una estética geométrica, verdaderamente fabulosa a través de un abrigo y muchas capas más. Virginie Viard nos enseña a lucir tales siluetas estructuradas con perlas y más perlas. Adoro su estilo al manipular la joyería. Mis piezas favoritas son la diadema de perlas sueltas y el cinto que acentúa un blazer de hombros atrevidos.
Chanel joins the masculine-femenine trend and gives us a fabulous geometric esthetic through a tailcoat and many more layers. Virginie Viard taches us how to style such structured silhouettes with pearls upon pearls. I must say I adore the way she manipulates jewelry. My favorite pieces are the loose pearl headband and the belt which accentuates a revealing blazer with gorgeous shoulders.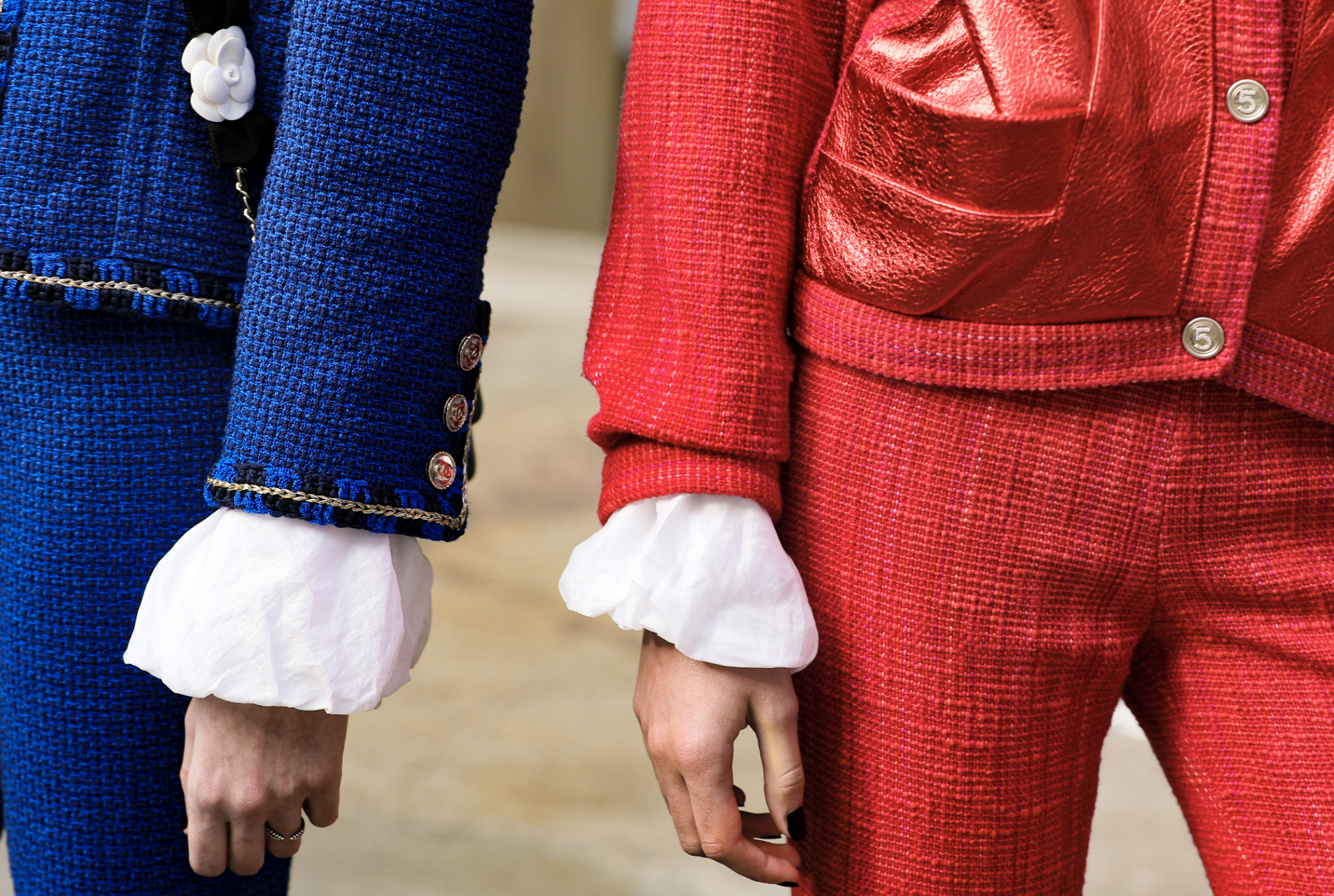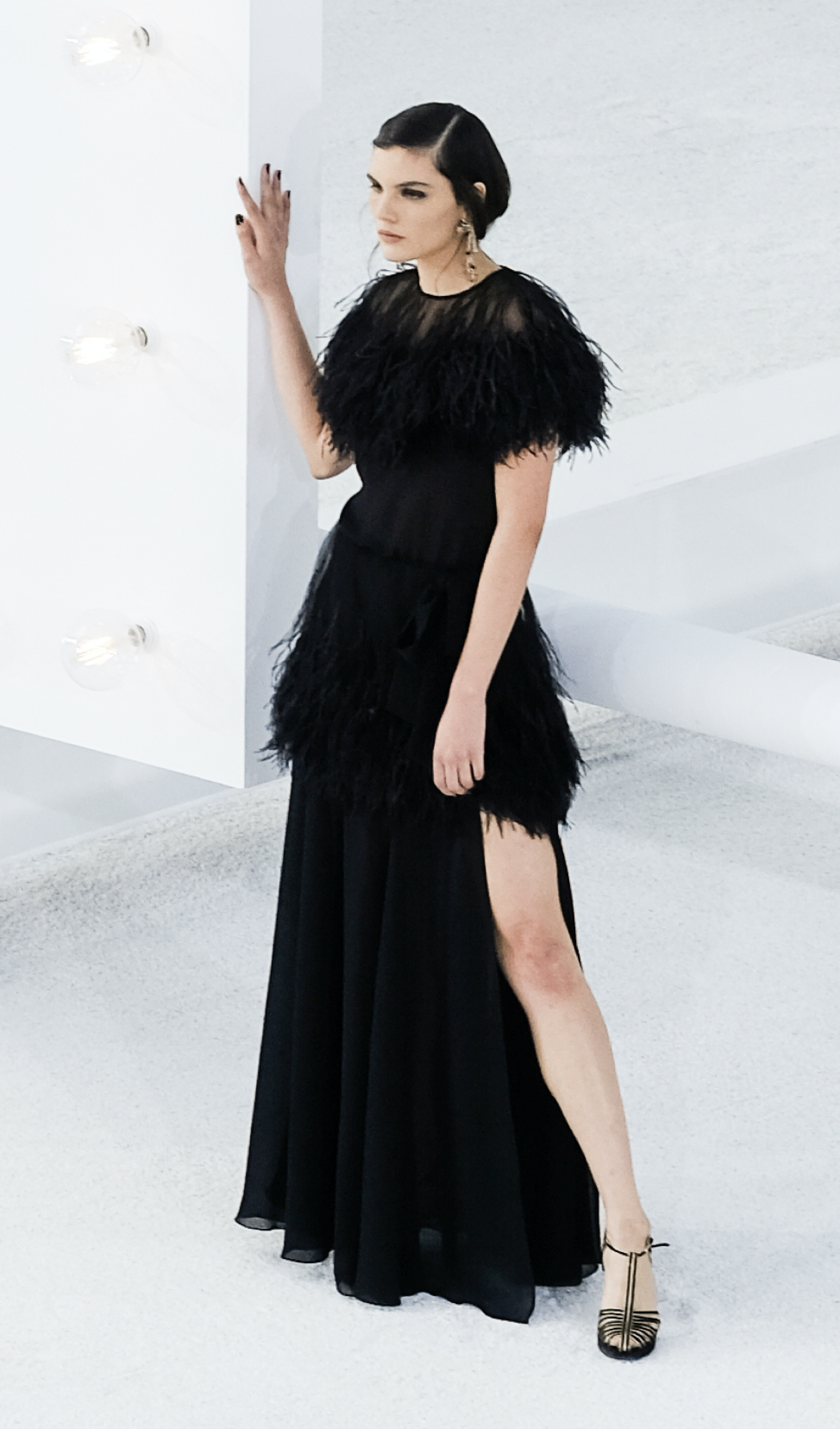 Chanel explora diferentes áreas como la de texturas al implicar transparencias, bordados y por supuesto tweed. Así mismo nos deleita con vestidos de faldas voluminosas, otras menos fluidas, algunos escotes de pierna y holanes que también los encontramos en cuellos statement. Detalles como estos cuellos interpretan el esplendor renacentista de Caterina de' Medici. Quien instala un monograma de su inicial en este escenario, el cual comparte una semejanza con el símbolo de doble C caracterizado por Gabrielle Chanel.
Chanel explores different areas like textures by applying transparencies, embroidery and tweed of course. Also, the brand delights us with dresses of voluminous skirts, others less flowy, some leg cleavage and ruffles which are also found in statement collars. Details such as these ones imply the Renaissance splendour of Catherine de' Medici, who also installs a double C monogram that shares the esthetic of the symbol that characterizes Gabrielle Chanel.
XOXO