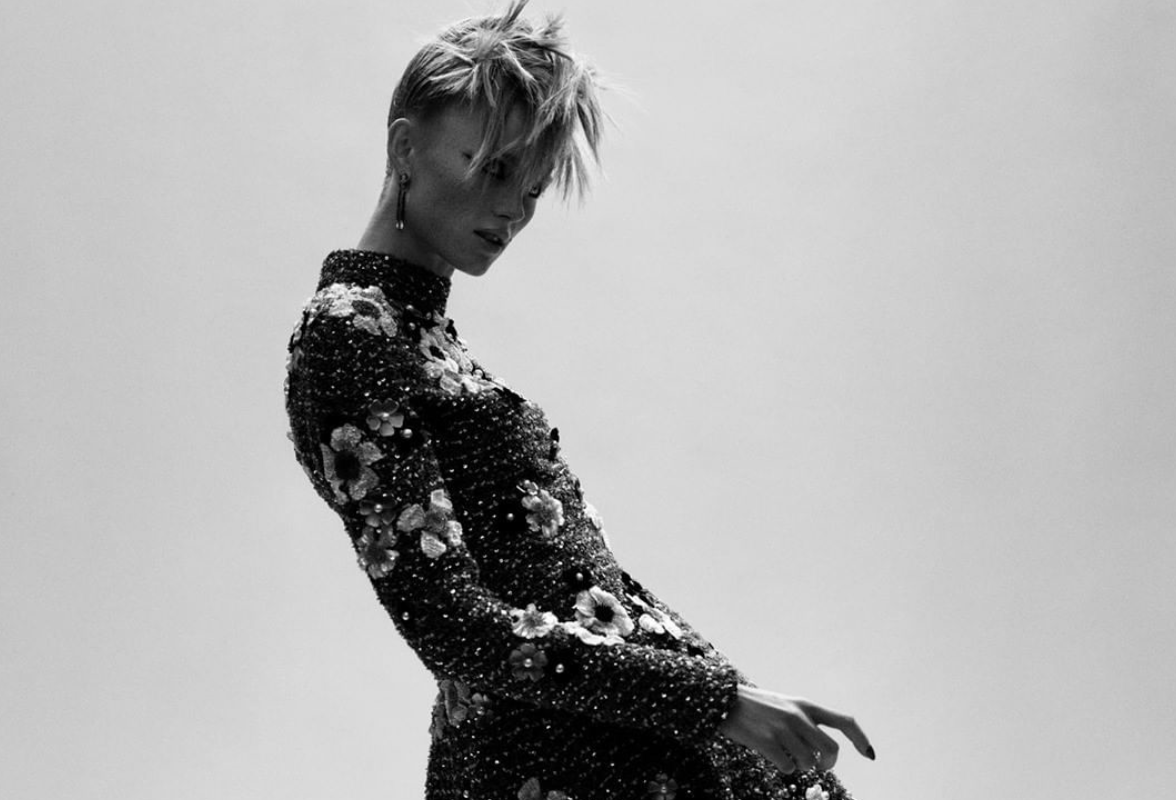 ¡Hola! Les escribo para que juntos recapitulemos sobre los mejores momentos vistos en Semana de la Moda de Alta Costura. Esta edición destaca por el debut digital de firmas como Dior, Chanel, Schiaparelli, Giambattista Valli, Antonio Grimaldi, Ralph & Russo, Alexandre Vauthier, Rahul Mishra. Todas presentaron de la manera más innovadora sus colecciones, en nuevos formatos que revolucionaron la industria. Sigue leyendo para ver cuáles fueron mis colecciones favoritas.
Hello! I'm writing this post to recap the best moments seen at Haute Couture Fashion Week. What was the first online edition, stands out for the digital debut of firms such as Dior, Chanel, Schiaparelli, Giambattista Valli, Antonio Grimaldi, Ralph & Russo, Alexandre Vauthier, Rahul Mishra. All presented their collections in the most innovative way, in new formats that changed the fashion industry. Keep reading to discover which collections were my favorites!
Chanel
Virginie Viard llevó al máximo el tejido predilecto de la maison: el tweed. La diseñadora le apostó por agregarle lentejuelas, cuentas, strass y piedras. Esta colección de solamente treinta looks –a diferencia de los usuales setenta– se inspiró en el barroquismo y los excesos de Karl Lagerfeld. El afán por las siluetas dieciochenas se aprecia en los vestidos voluminosos, chaquetas entalladas y prendas de color negro con contrastes como el rosa. La princesa emblemática de la firma francesa juega con la rebeldía del punk y el rock, claro con más estilo que nunca.
Chanel's main tweed fabric has been embroidered in strass, sequins and stones thanks to Virgine Viard. The thirty-look collection (usually seventy are exhibited) focuses on Karl Lagerfeld's excesses and his baroque taste. His passion for the eighteenth century's silhouettes has been expressed through voluminous dresses, tailored jackets and black pieces with electric contrasts like hot pink. More stylish than ever, Chanel's protagonic princess inclines into punk and rock's rebellion.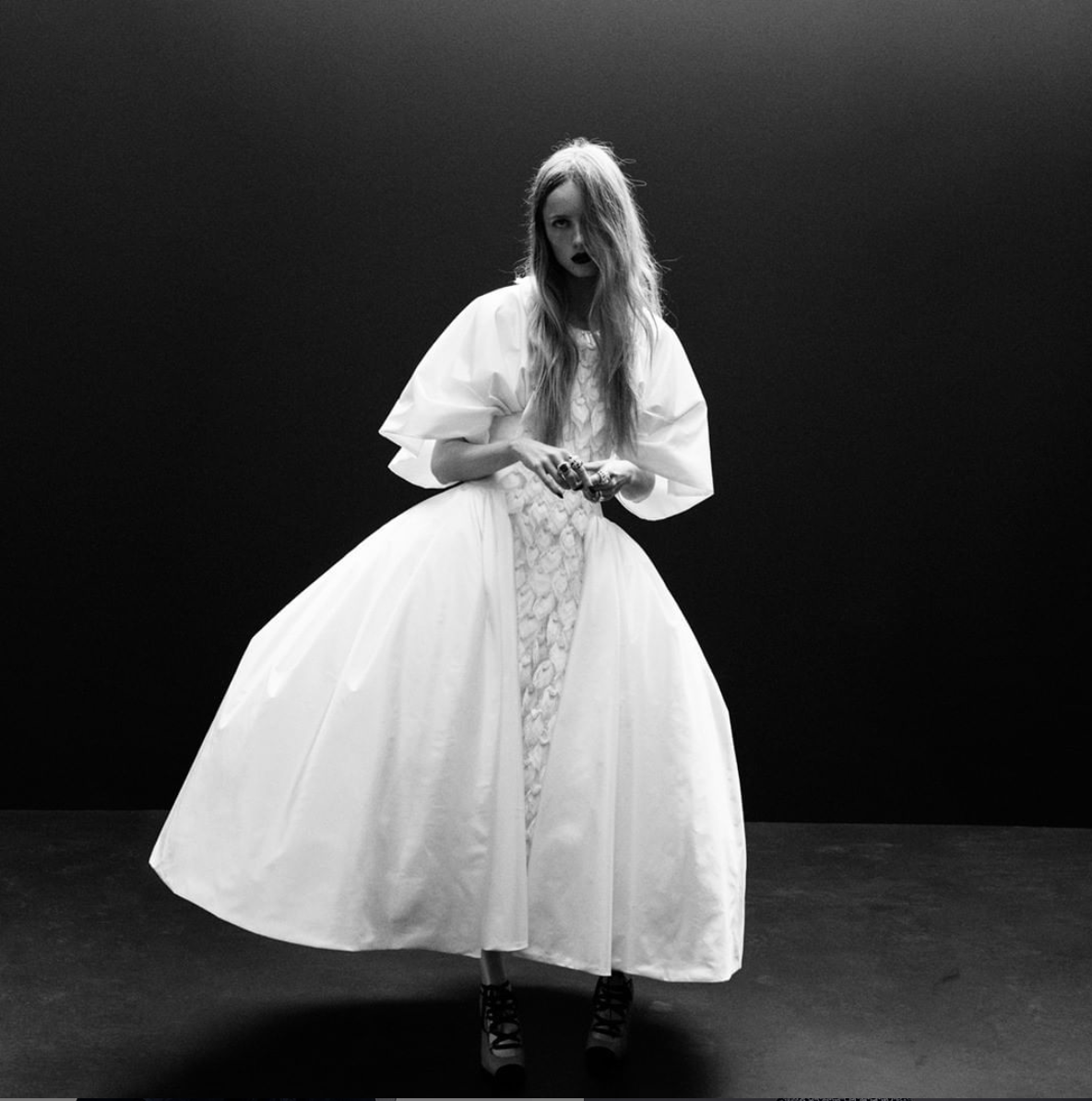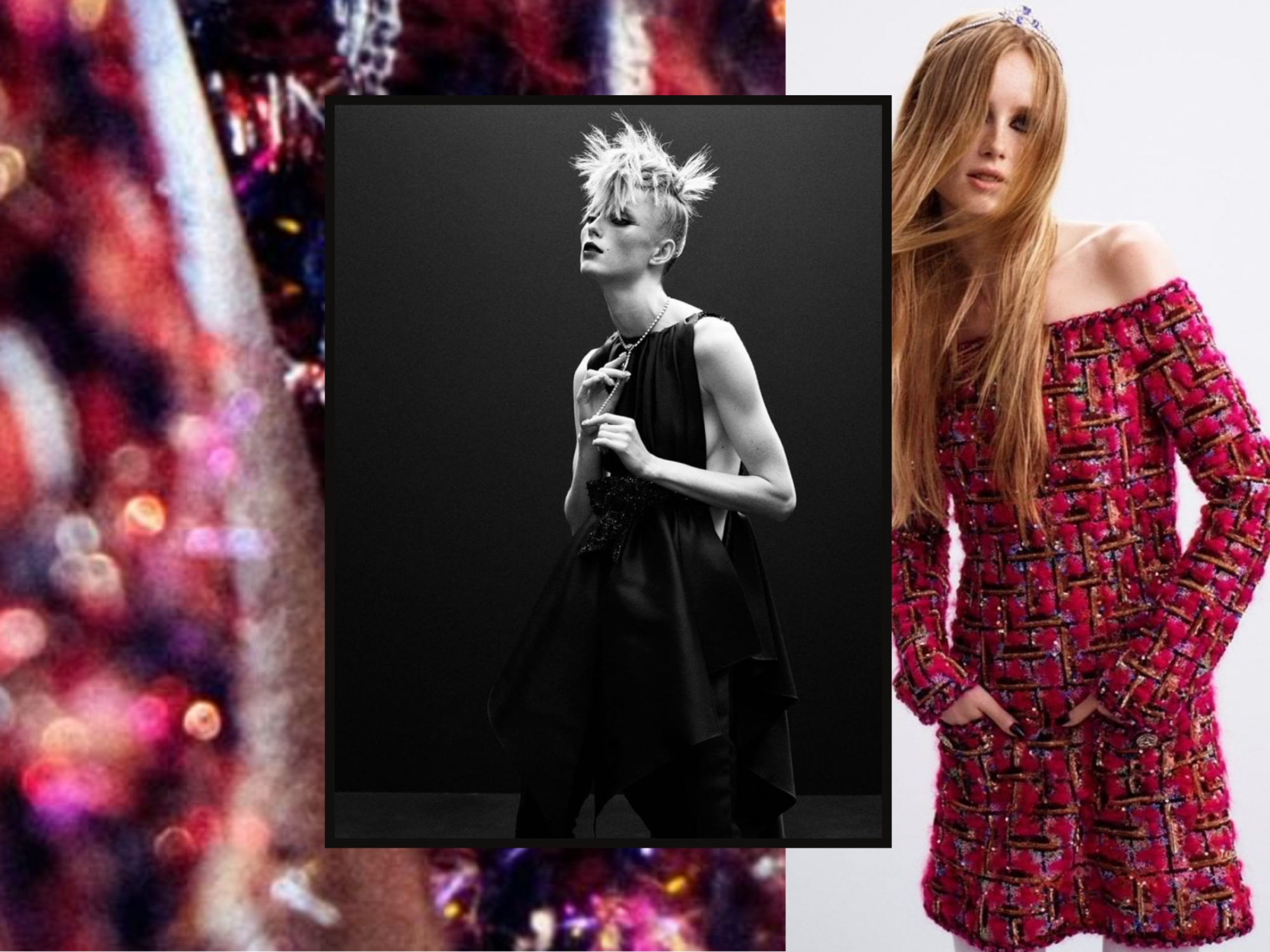 Balmain #BalmainSurSeine
Cuando parecía imposible viajar a la ciudad de la moda, Balmain trajo París y sus diseños a nosotros. La firma francesa desfiló sobre una barcaza en el río Sena y lo transmitió en vivo con el hashtag #BalmainSurSeine a través de TikTok. El equipo de Balmain capturó los últimos 75 años de elegancia y artesanía con trece looks. Entre ellos destacan vestidos de siluetas, texturas y colores diferentes con bordados aperlados, cortes strapless, además de telas más lisas y sofisticadas en trajes entallados. Cindy Bruna lució a su manera un skinny black look de lentejuelas y detalles de tela fluida. Las modelos fueron acompañadas por cantantes y bailarines para transmitir el alma singular y alegre del diseñador. Una vez más, Balmain se destacó por su buen gusto en moda, diversión y música.
When it seems hard to travel to the city of fashion, Balmain brings Paris and their designs to us. The French house's collection boarded a barge and live-casted through TikTok their trip to the Seine. The Balmain team captured in thirteen looks the last 75 years of refinement, elegance and craftmanship. There were magnificent dresses with many strapless cuts, each with it's own silhouette, texture, color and gorgeous techniques like pearl-embroidery. Cindy Bruna wore a skinny black-sequin look with flowy details. In order to spread the designer's peculiar and joyful soul, the models were joined by a fabulous singer and fifty dancers. Once more, Balmain stood out for having incredible taste in music and fashion.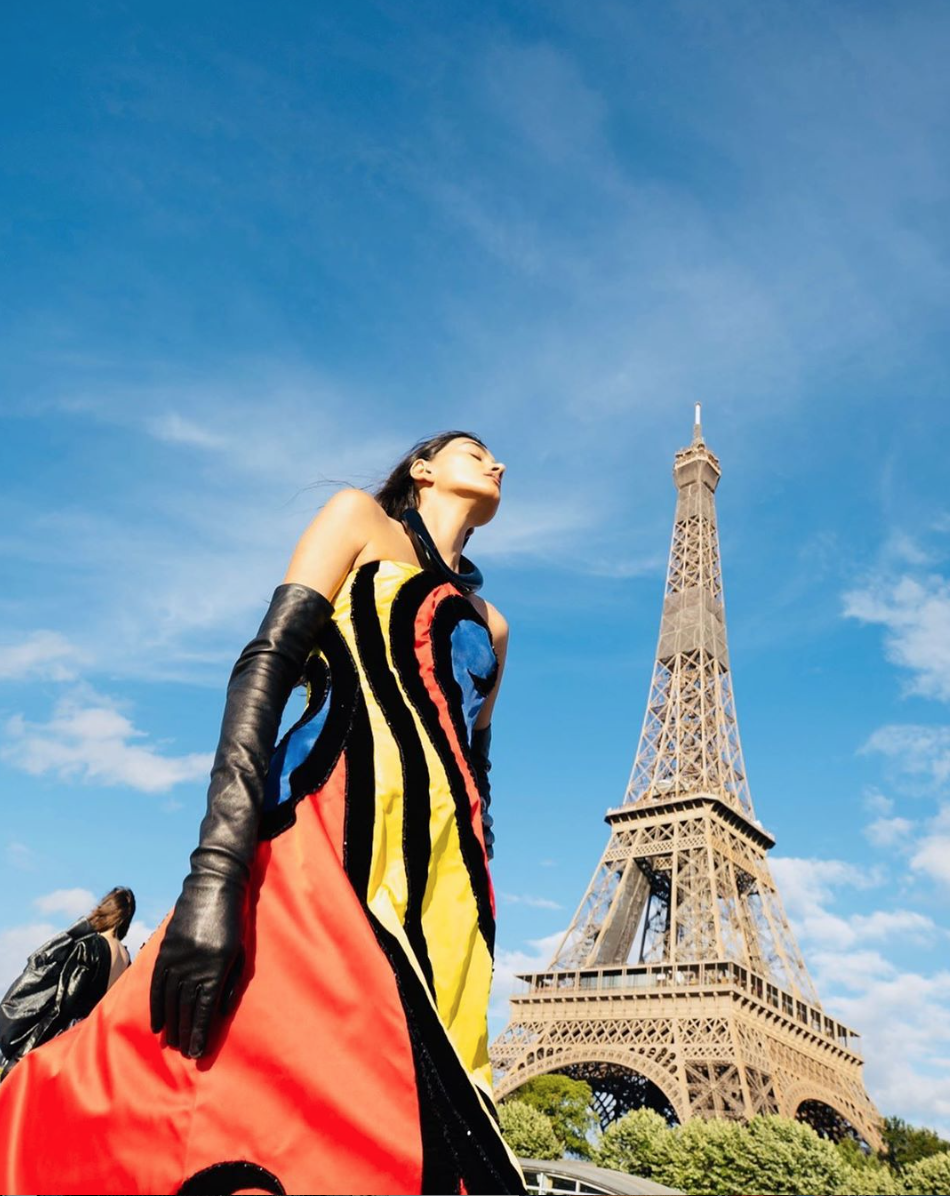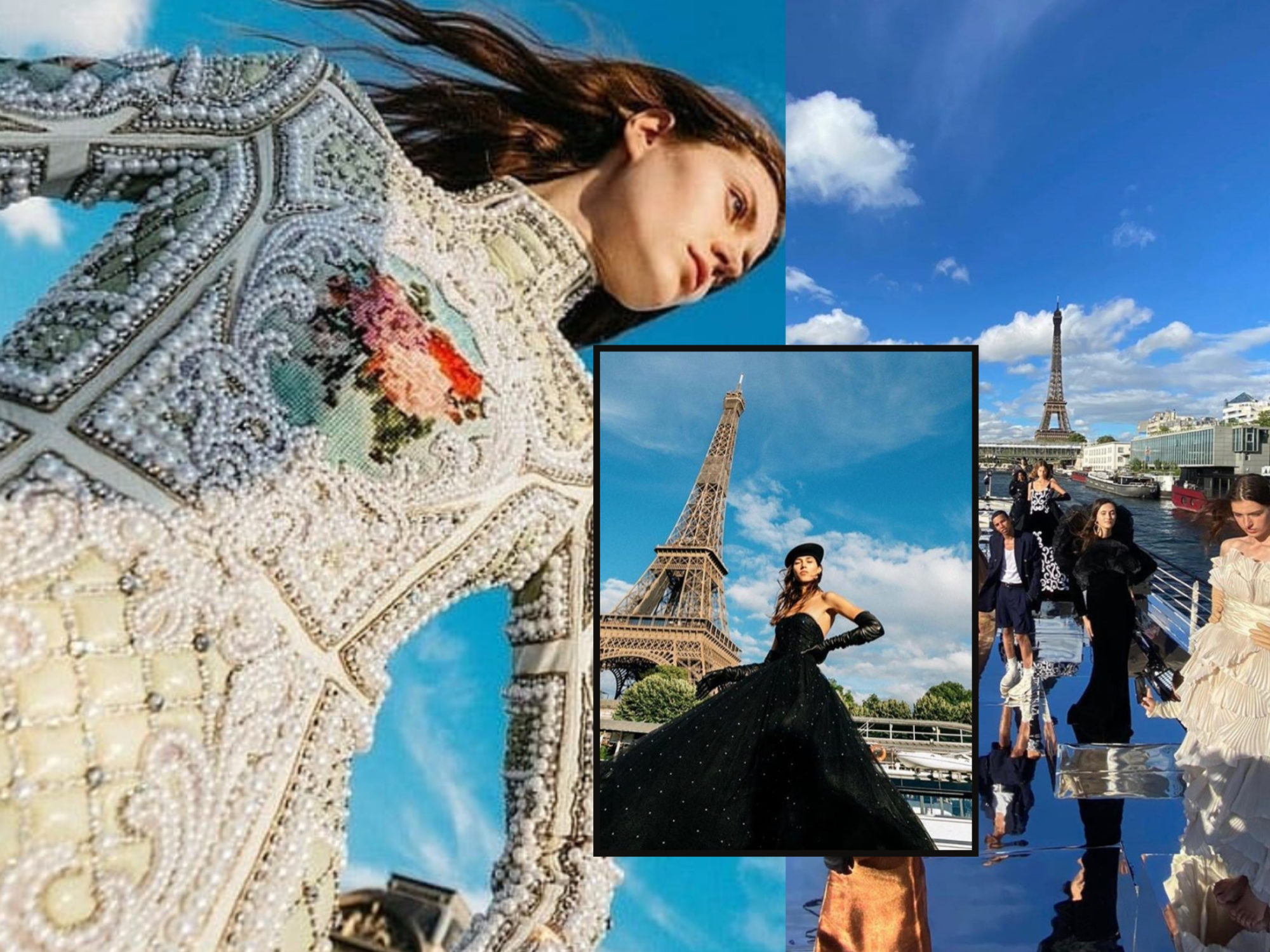 Giambattista Valli
Joan Smalls modeló dieciocho vestidos de Alta Costura del diseñador italiano. Giambattista Valli limitó su colección a telas lisas de colores blanco, negro, rojo y rosa. Esta decisión riesgosa originó vestidos espectaculares basados en el volumen y la creación de textura como plisados y olanes, en conjunto con las lentejuelas, plumas delicadas y moños que le dan un toque girly. Las piezas de tul voluminosas se han convertido en un ícono de la firma italiana. Soy fan de los tocados tan creativos con los que Giambattista complementa sus looks.
Joan Smalls modeled eighteen High-Fashion dresses designed by the amazing Italian. Giambattista Valli limited his collection to smooth black, white, red and pink fabrics. This risky decision created spectacular dresses; so voluminous and texturized made of ruffles, pleats, details like sequin-application, delicate feathers and girly bows. Lately, the tulle voluminous pieces have become the Italian firm's icon. I am a big fan of the creative accessories that Giambattista designs in order to complement his fabulous looks.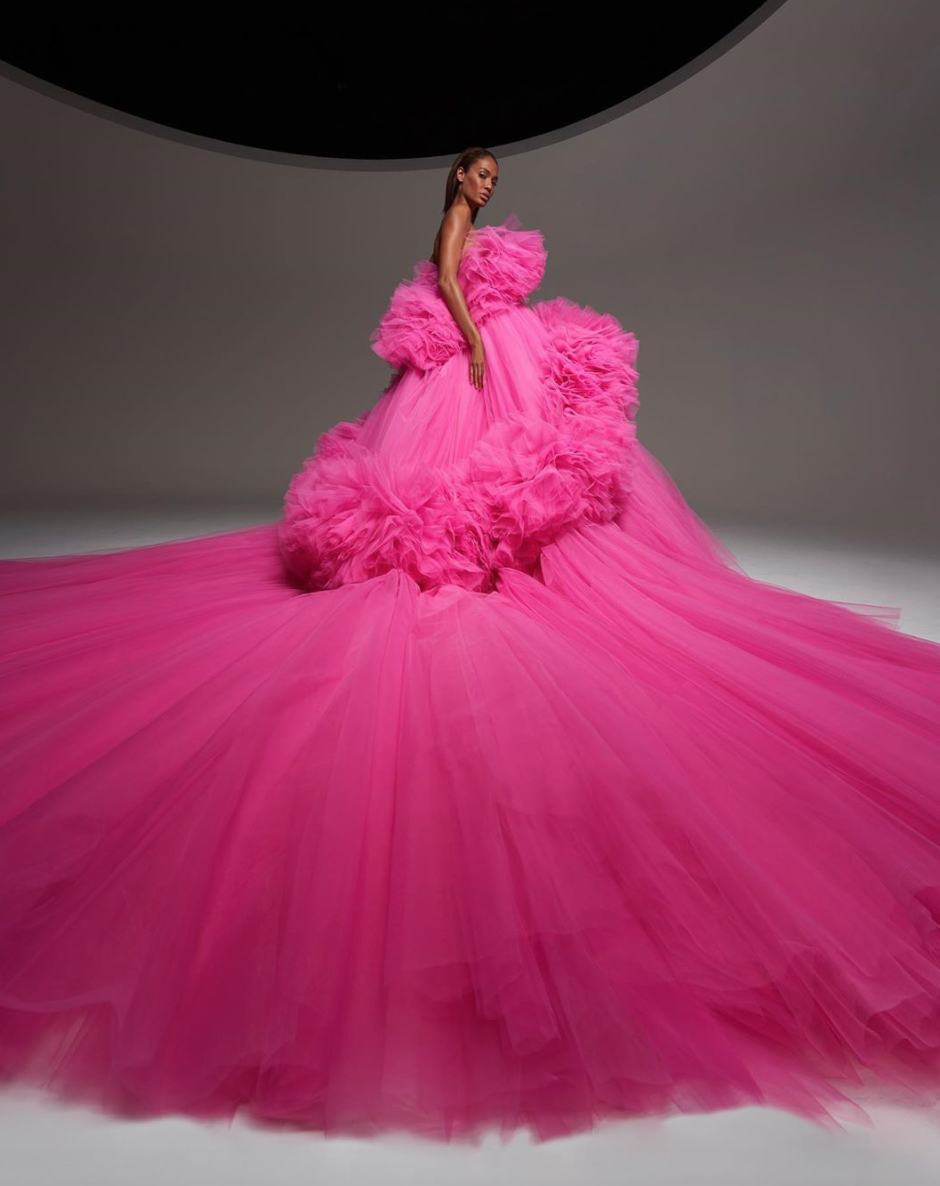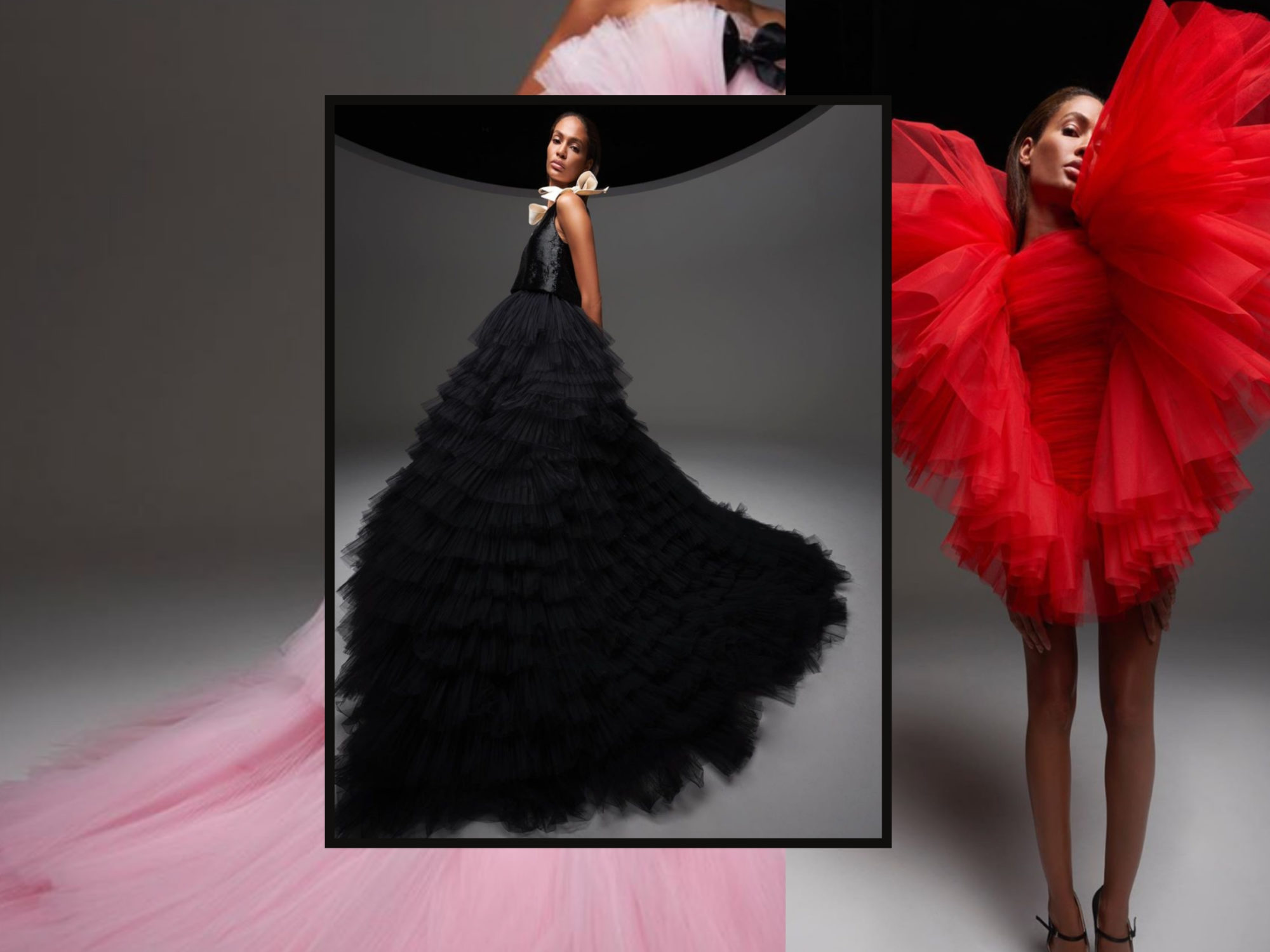 Dior
La directora creativa Maria Grazia Chiuri presentó la confección más sofisticada de diseños en miniatura, haciendo referencia al Théâtre de la Mode y a la fundación de la maison Dior después de la Segunda Guerra Mundial, cuando la tela era limitada pero la creatividad todo lo contrario. 
Inspirada en el surrealismo de Leonora Carrington y Dorothea Tanning, la firma francesa presentó vestidos, trajes, abrigos y otras piezas increíbles hechas con la delicadeza icónica de Dior en materiales parisinos como la organza, el tul, los holanes y bastante volumen. Me encantó el drapeado en ciertas prendas puesto a que me recordó a las estatuas antiguas. Los looks de Alta Costura en colores neutros con detalles azules, verdes y metálicos me adentraron en un ambiente forestal y en el mundo perfecto, surrealista de Dior.
The creative director Maria Grazia Chiuri has downsized the most sophisticated designs; reminiscent of le Théâtre de la Mode popular during Dior's founding after World War II when fabrics where limited but creativity was enforced. Inspired by Leonora Carrington's and Dorothea Tanning's Surrealism, the French firm presented dresses, suits, coats and more wonderful pieces made of Parisian classic materials like organza, tulle, ruffles and quite a lot of volume. I adored the draped pieces because they reminded me of the antique sculptures. The High-Fashion looks' neutral colors embroidered in blue, green and metallics helped me visualize the Forest and a perfect, surreal Dior world.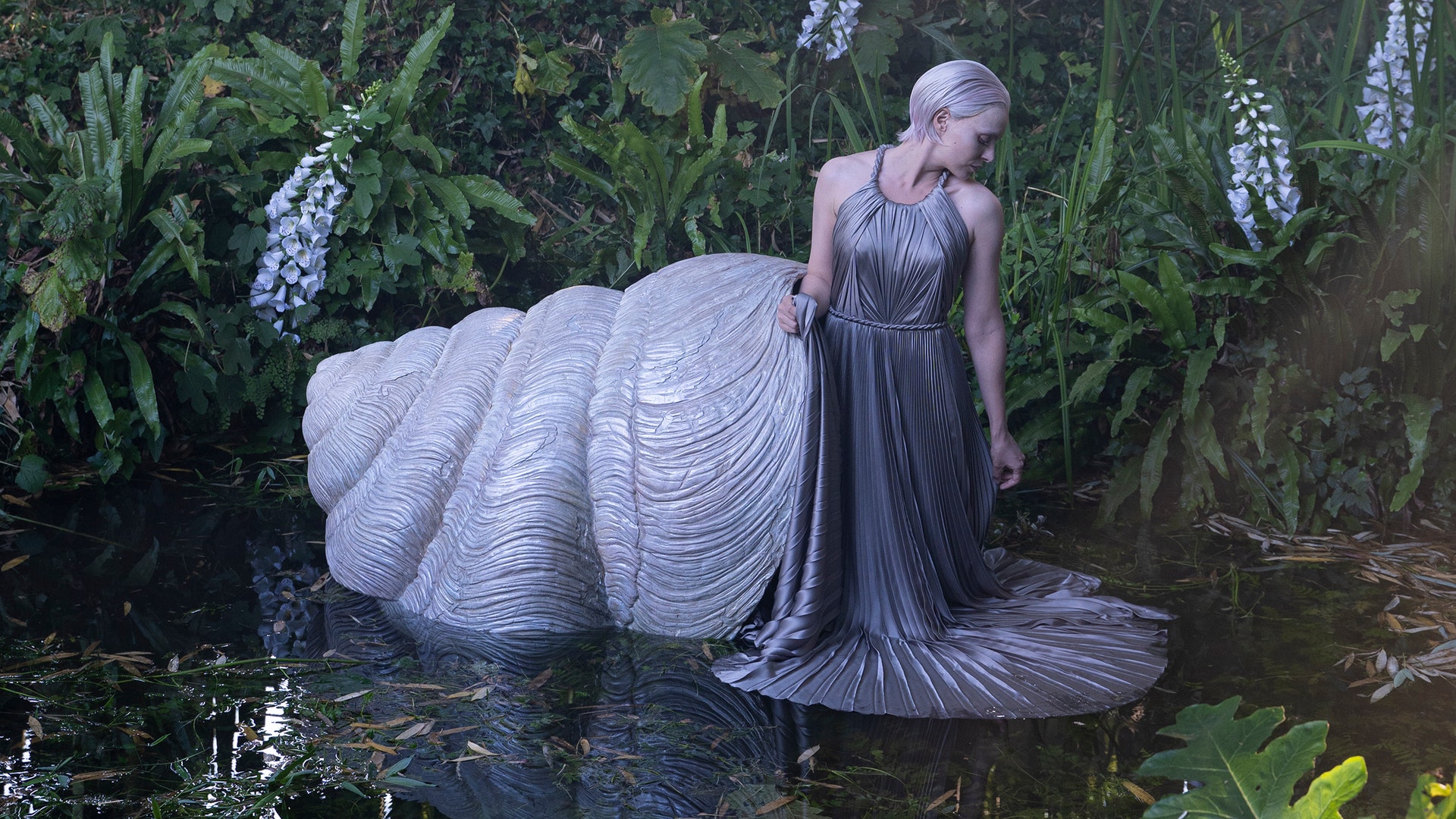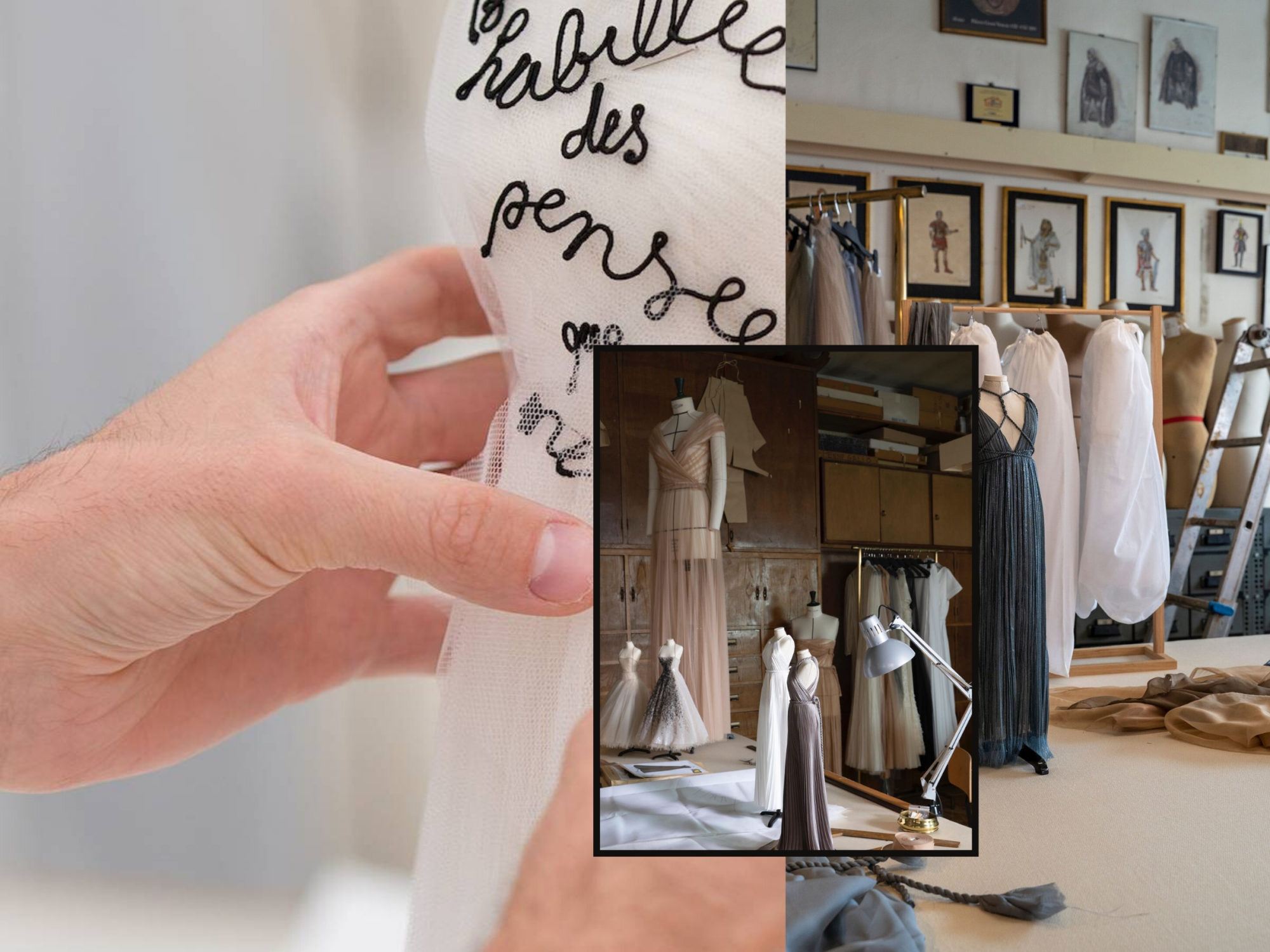 Iris Van Herpen
Iris van Herpen experimentó intensamente con los materiales y técnicas artesanales; consigue mantener el equilibrio ideal con el que crea piezas infalibles para el mundo de la moda de Alta Costura. La diseñadora transmitió su inspiración, la cual se basa en un aura de naturalidad y organismos de lo más profundo del océano. Realmente admiro su pasión por reinterpretar el movimiento de la naturaleza a través de la elegancia en una mujer, por esto mismo adoro su originalidad. 
Iris van Herpen experiments extremely with the materials and the craftmanship's techniques that she applies on her High-Fashion looks. Somehow, she accomplishes to achieve the perfect balance and creates exquisite pieces. The designer presents esthetics inspired by dendrites and deep-sea organisms. I admire her passion to pursue the natural movements in a very elegant way, therefore I adore her originality.