El veganismo, más allá de ser una dieta es un estilo de vida, pues es la práctica que rechaza la utilización y consumo de todos los productos y servicios de origen animal. Las que no llevamos este estilo de vida podemos llegar a pensar que las comidas veganas pueden ser monótonas y aburridas, sin embargo existen combinaciones deliciosas para preparar. Hoy te traigo estas dos recetas veganas para almuerzos súper ricos y que además te mantendrán satisfecha un buen rato:
Pasta de Espinaca y Eneldo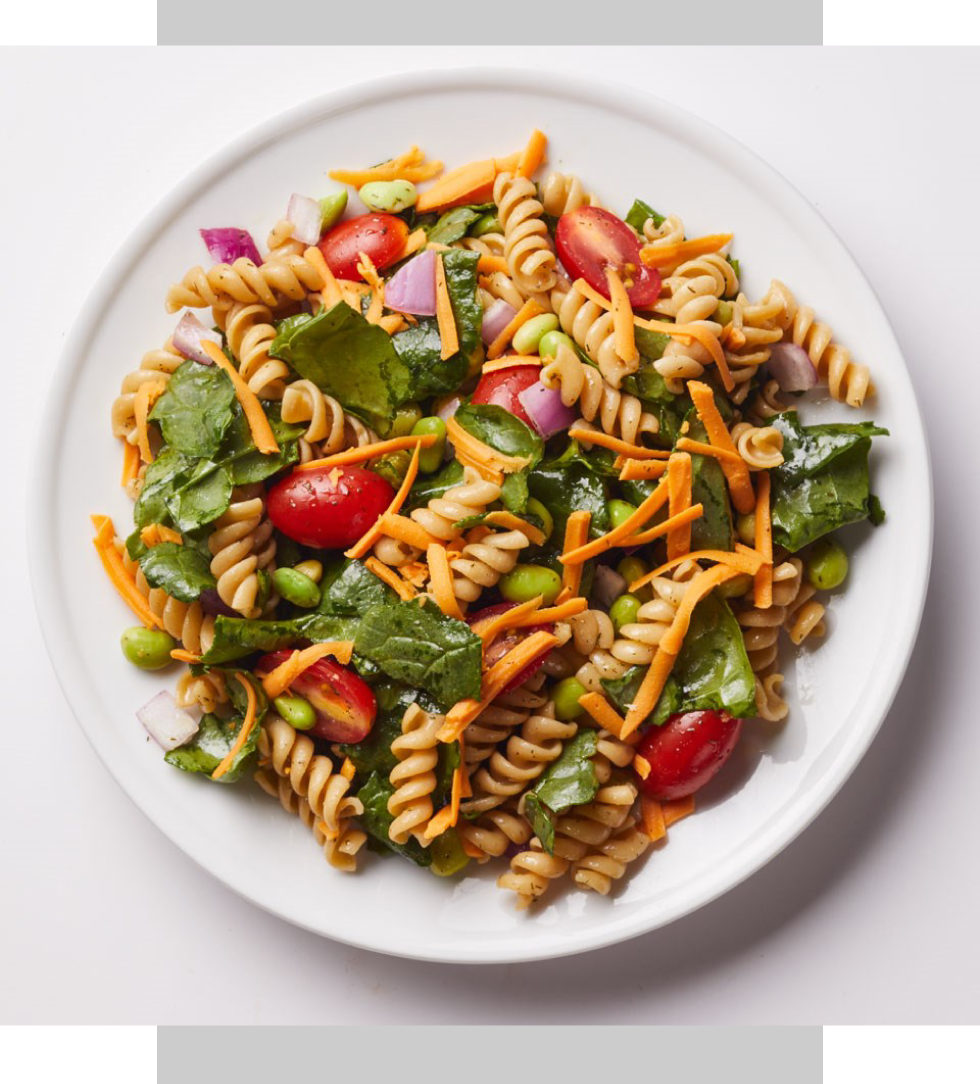 Esta pasta deliciosa es una rápida opción para tu almuerzo, agregando sabor a través de las hiervas seca. Además, al incluir Edamame, estas añadiendo un poco de proteína.
1 cda de vinagre de vino blanco
1 cda de aceite de oliva extra virgen
¼ cta de eneldo seco
⅛ cta de ajo en polvo
⅛ cta de sal
⅛ cta de pimienta molida
¾ taza de fusilli integral cocido o penne
1 taza de espinaca picada
½ taza de tomates cherry
¼ taza de edamame sin cáscara
2 cdas de queso vegano rallado
1 cda de cebolla roja finamente picada
Batir el vinagre, el aceite, el eneldo, el ajo en polvo, la sal y la pimienta en un tazón mediano. Agregar la pasta, las espinacas, los tomates, el edamame, el queso y la cebolla; mezclar todo muy bien.
Ensalada de Garbanzos y Quinoa con Aderezo de Humus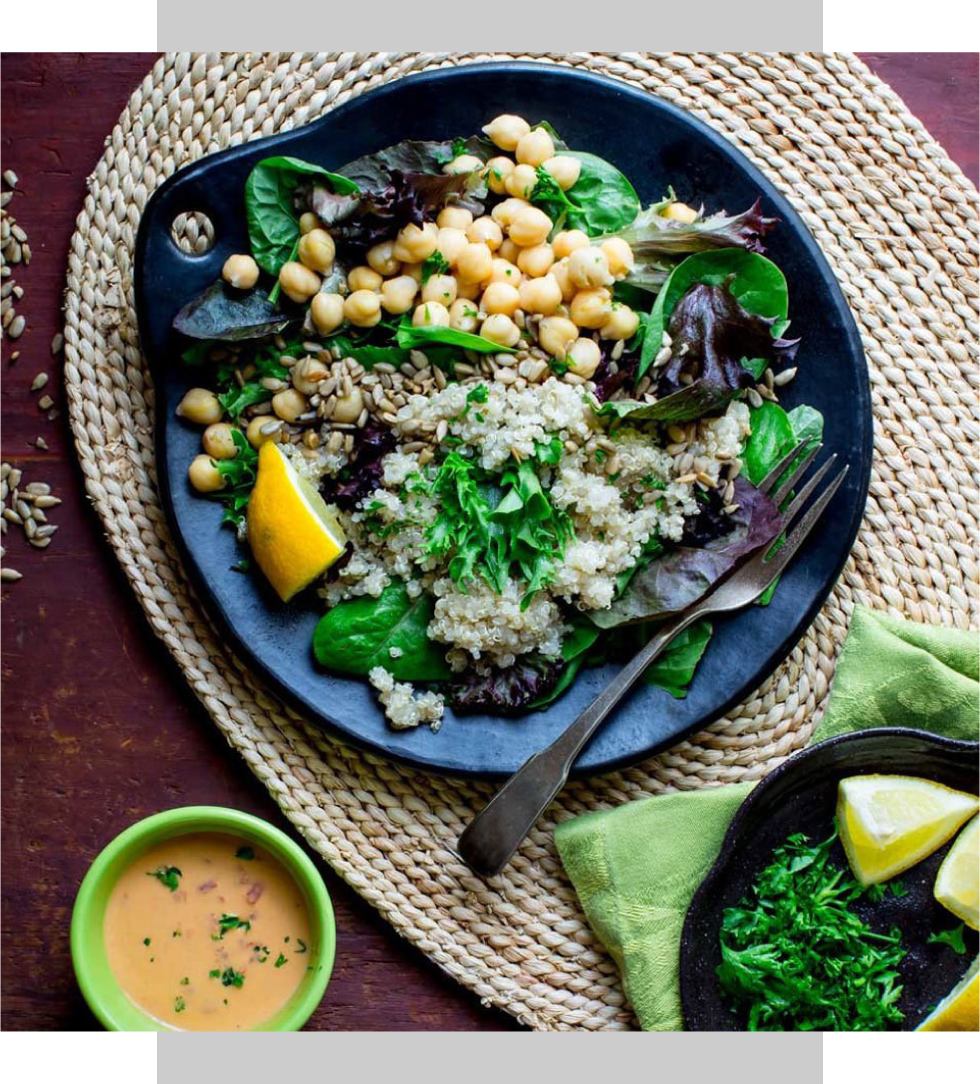 Esta ensalada vegana está cargada de ingredientes deliciosos y llenos de energía, como los garbanzos, la quinoa y el hummus. Las semillas de girasol y el sabor de los pimientos asados añaden un toque inesperado de sabores.
2 cdas de hummus
1 cda de jugo de limón
1 cda de pimiento rojo asado picado
2 tazas de lechugas mixtas
½ taza de quinoa cocida
½ taza de garbanzos
1 cda de semillas de girasol sin sal
1 cda de perejil fresco picado
Sal y pimienta al gusto
Mezcla el hummus, el jugo de limón y los pimientos rojos en un plato pequeño, añadiendo un poco de agua y mezclando bien para aligerar la consistencia del aderezo. Coloca las lechugas mixtas, la quinoa y los garbanzos en un tazón grande. Cubre con las semillas de girasol, el perejil, sal y pimienta, y por último, añade el aderezo por encima.
//////////
Veganism, beyond being a diet is a way of life, because it is the practice that rejects the use and consumption of all animal origin products and services. Those who do not have this lifestyle can come to think that vegan meals can be monotonous and boring; however there are delicious combinations to prepare. Today I bring you these two vegan recipes for super flavourful lunches that will also keep you satisfied for a while:
Spinach and Dill Pasta
This delicious pasta is a quick option for your lunch, adding flavor through the dried herbs. Also, by including Edamame, you are adding a little protein.
1 tbsp white wine vinegar
1 tbsp extra virgin olive oil
¼ cup of dry dill
⅛ tsp garlic powder
⅛ tsp salt
⅛ tsp of ground pepper
¾ cup of cooked whole fusilli or penne
1 cup chopped spinach
½ cup of cherry tomatoes
¼ cup of edamame without peel
2 tbsp grated vegan cheese
1 tbsp finely chopped red onion
Beat the vinegar, oil, dill, garlic powder, salt and pepper in a medium bowl. Add the pasta, spinach, tomatoes, edamame, cheese and onion; Mix everything very well.
Chickpea and Quinoa Salad with Humus Dressing
This vegan salad is loaded with delicious and energetic ingredients, such as chickpeas, quinoa and hummus. Sunflower seeds and the flavor of roasted peppers add unexpected flavors.
2 tbsp of hummus
1 tbsp lemon juice
1 tbsp red chopped red pepper
2 cups mixed lettuce
½ cup of cooked quinoa
½ cup of chickpeas
1 tbsp sunflower seeds without salt
1 tbsp fresh chopped parsley
Salt and pepper to taste
Mix the hummus, lemon juice and red peppers in a small dish, adding a little water and mixing well to lighten the consistency of the dressing. Place the mixed lettuce, quinoa and chickpeas in a large bowl. Cover with sunflower seeds, parsley, salt and pepper, and finally, add the dressing on top.