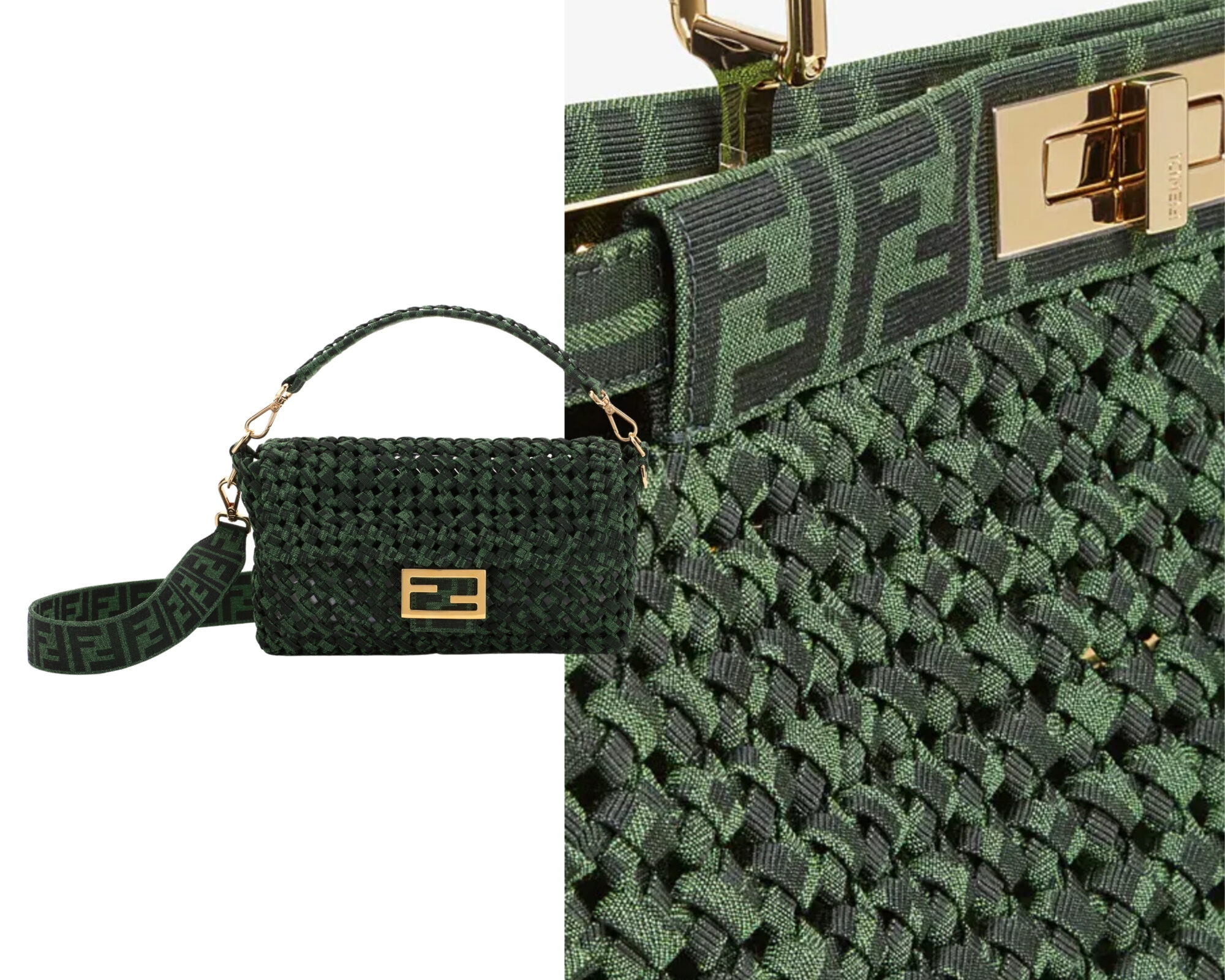 Happy Thanksgiving! Les confieso que ya me decidí por qué bolso usar en las festividades. Fendi introduce su alma ecológica y responsable por el ambiente a través de la estética infalible de su bolso Peekaboo y Baguette. Adoro la fusión de la moda con la sustentabilidad y el proceso artesanal que conlleva la FF Green Interlace Capsule Collection.
Happy Thanksgiving! I must confess that I have already chosen a bag for the holidays. Fendi introduces its ecological soul through the infallible esthetic of the Peekaboo and Baguette bags. I adore the fusion between fashion, sustainability and handcraft that employs the FF Green Interlace Capsule Collection.
Las características
Lo que convierte a este bolso en el must de la temporada es su técnica Interlace, tejido de telas recicladas de algodón y poliéster certificadas FF. Las manos italianas combinan la calidad de la obra artesanal con el cuidado del medio ambiente para crear una pieza de lujo, alta moda y durabilidad. Fendi propone el proyecto "hand in hand" donde convoca a un artesano de cada región italiana a crear un modelo único con la esencia que caracteriza a la marca. Como resultado, Baguette se convierte en un verdadera pieza de arte objeto.
What turns this bag into a must for the season is its Interlace technique. The FF certified cotton and polyester fabric is cut into individual stripes and hand knotted together. The Italian hands combine the quality of artisan work and environmental care to create a luxurious, high-end piece surrounded by durability. Fendi proposes the "hand in hand" project where an artisan from every region in Italy creates a unique model with the essence that the brand is known for. As a result, Baguette turns into a true object d'art.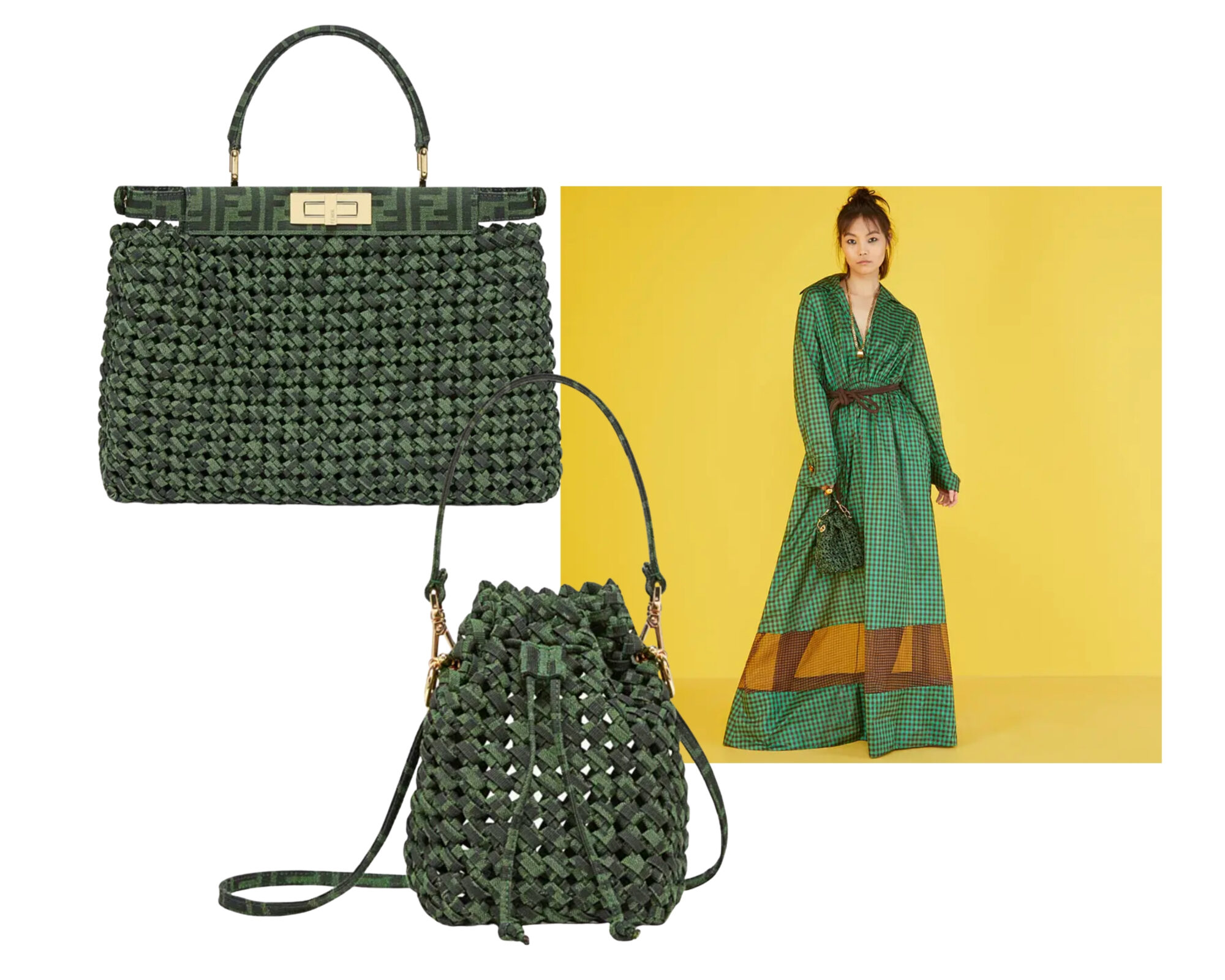 La casa de lujo romana funda FENDI Factory como centro de creación, entrenamiento, y eficiencia en Bagno a Ripoli. El clásico logotipo FF se convierte en un símbolo de innovación en la moda de lujo. Su presencia como broche dorado en la bolsa siempre es el toque final insuperable. Me emociona llevar este bolso conmigo durante las celebraciones de esta temporada, una vez que me decida entre su versión original
verde o el modelo café tabaco. Estaba buscando el regalo perfecto para consentirme a mí misma durante Thanksgiving y una vez más, Fendi lo resuelve todo.
The Roman luxury house opens FENDI Factory as a creative, training and efficient center in Bagno a Ripoli. The classic FF logo becomes a symbol of innovation in high- fashion. Its golden presence in the bag is always the perfect final touch. I really look forward to embellishing my looks with the FF Green during the holidays, once I pick between the green or tobacco brown version. I was waiting for the perfect Thanksgiving present from me to myself and once more, Fendi solved that out.
DESCUBRE: 3 REGALOS PARA LA MUJER QUE AMA LA MODA
XOXO