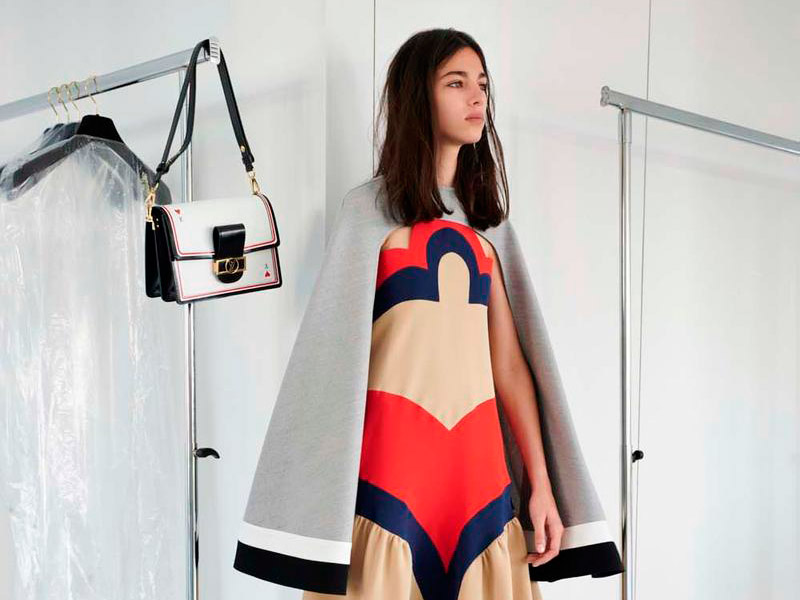 ¡Feliz viernes! Tenía muchas ganas de escribirte sobre esta increíble colección que me enamoró principalmente por cómo las flores del monograma emblemático de Louis Vuitton, se unen con los corazones, diamantes, tréboles las espadas de las cartas que todo viajero lleva en su bolsa de viaje. Este mazo que es el fiel compañero de todas las personas ávidas de aventura, es manipulado por Nicolas Ghesquière, quien juega con los símbolos clásicos y con la contemporaneidad de nuestra sociedad. La épocas y su creatividad, hace que este manifiesto estilístico se atemporal.
Happy Friday! I really wanted to write to you about Louis Vuitton's amazing Resort collection. The particular Monogram's flowers merge with the hearts, diamonds, hearts, clubs and spades from the deck of cards that only specific people know how to dominate. Nicolas Ghesquière manipulates these classic symbols and becomes visionary with our society's contemporaneity. The coalescence of the different eras and the director's creativity give timelessness to his stylistic manifesto.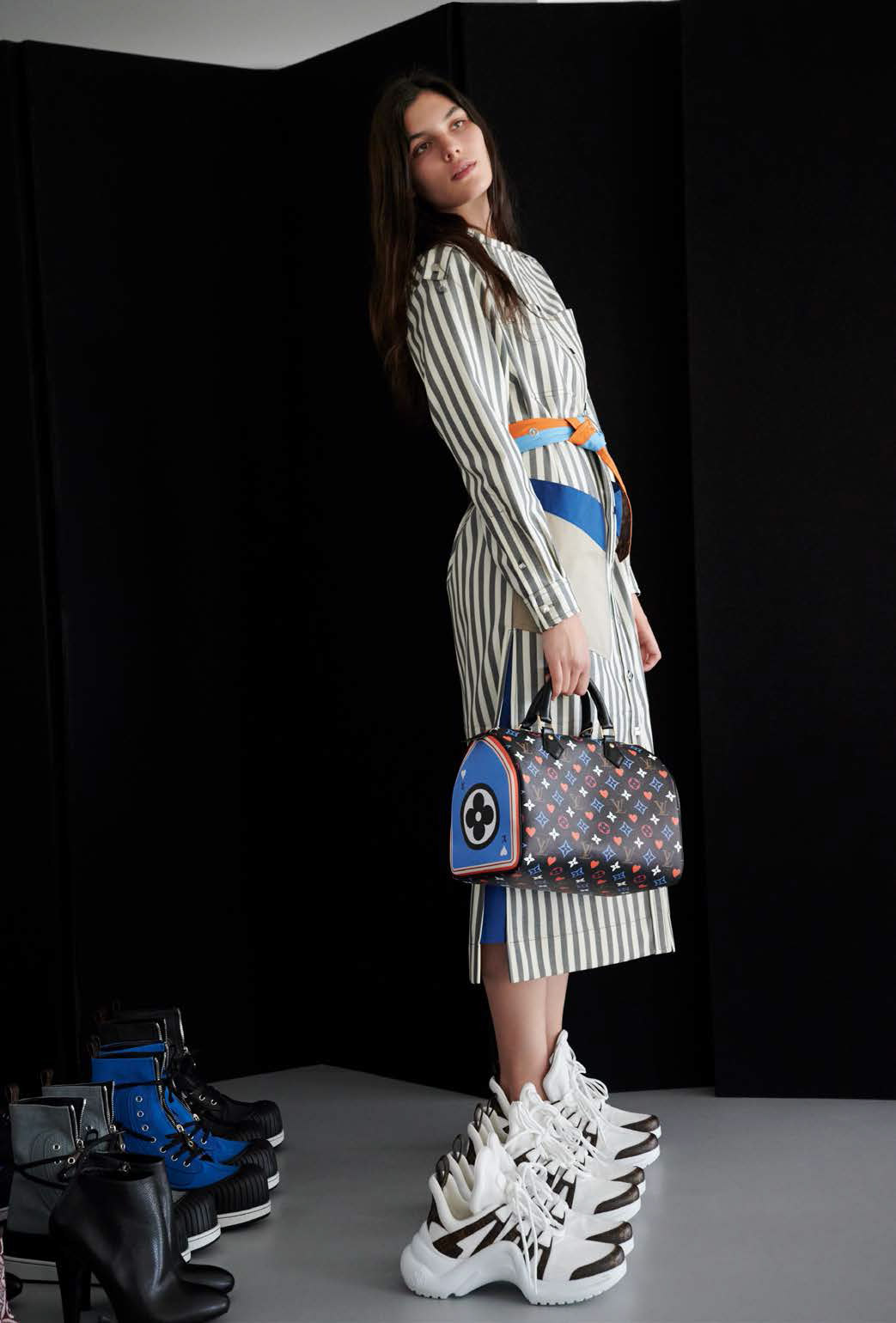 Con esta propuesta, Louis Vuitton nos reafirma la idoneidad de acentuar cada look agregando una bolsa con el estampado Monograma, icónico de la maison. Me encanta la idea de darle un boost colorido de acuerdo a la temática de la colección. Además, la forma creativa en corazón y rombo evoca la autenticidad de Louis Vuitton.
Louis Vuitton reaffirms the benefits of accentuating each look by adding the maison's iconic Monogram pattern. I adore the idea of giving it a colorful boost according to the collection's theme. Besides, the creative heart and diamond shapes evoke Louis Vuitton's authenticity.
LEE MÁS: LOS VESTIDOS PARA USAR DE NOCHE Y DE DÍA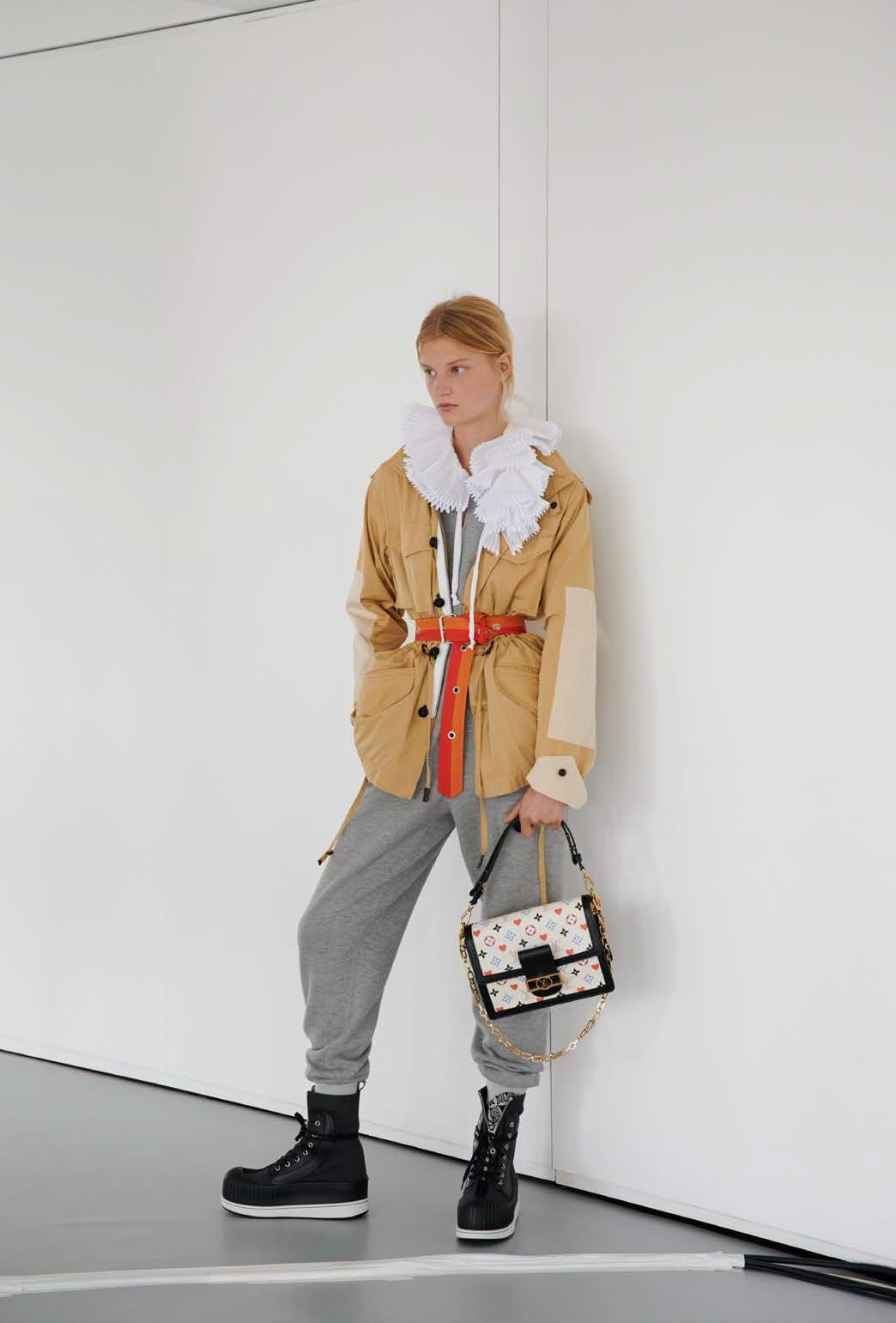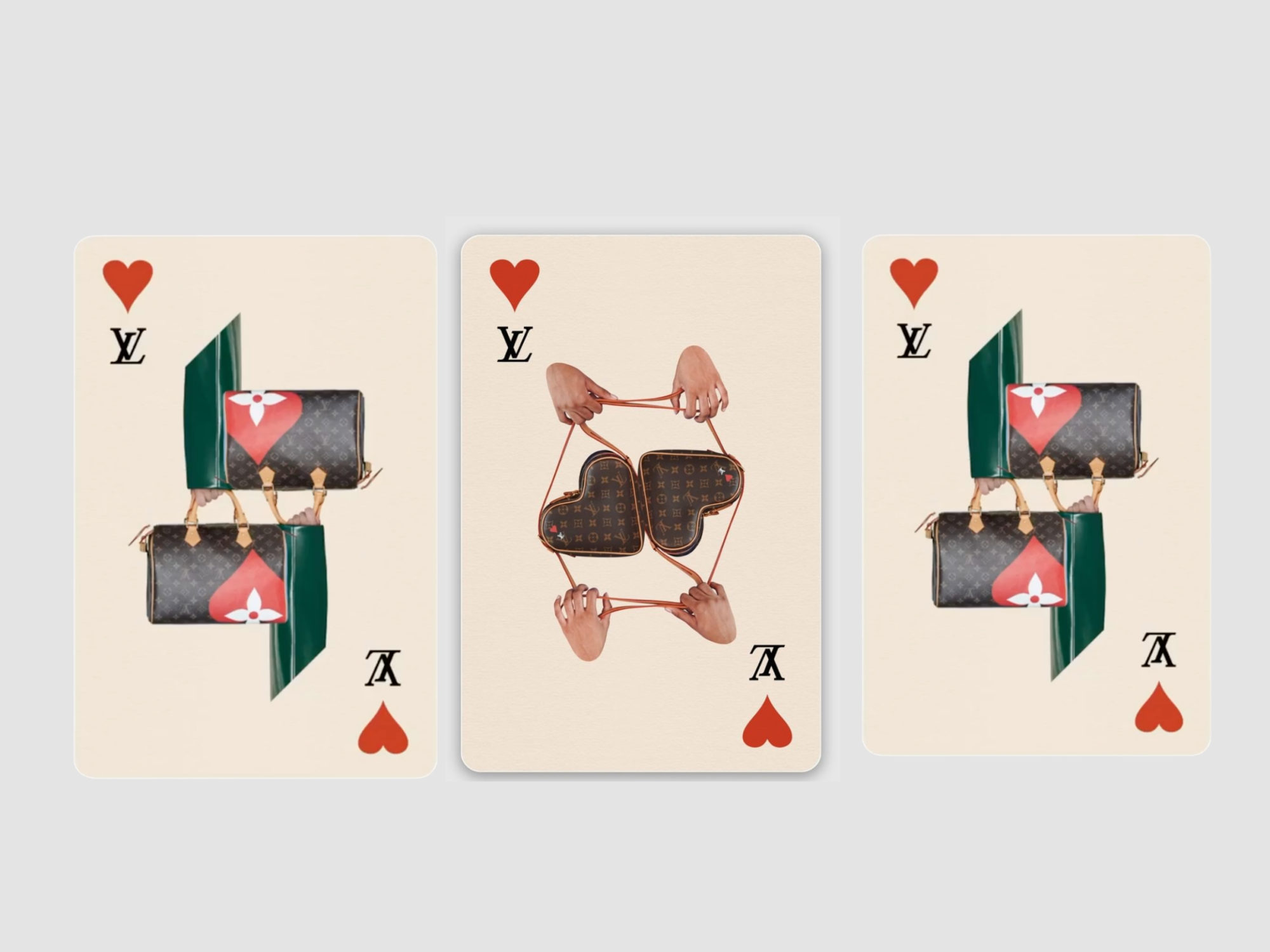 'Game On' declara detalles completamente innovadores que trascenderán en las próximas décadas. La presencia sutil de un cuello Mao se vuelve statement en los abrigos y chaquetas; lo mismo sucede con la elegancia de un cuello de holanes interactuando con una sudadera y sweatpants. Por otra parte, la maison manipula la tendencia de las prendas oversized al presentar su chaqueta holgada, combinada con combat boots y un lindo vestido de silueta recta con la aplicación de la imagen de espada. Después le da un giro formal y la chaqueta hace presencia con un par de tacones sofisticados.
Game On displays innovative details that will transcend the upcoming decades. The subtle Mao collar becomes the protagonist in coats and jackets; the same occurs with the ruffled collars' elegance interacting with a sweatsuit. On the other hand, the house of Louis Vuitton plays with the oversized trend by introducing an enormous jacket styled with combat boots and a nice dress with a spaded shape. Afterwards, it's given a formal twist by styling it with a pair of sophisticated pumps.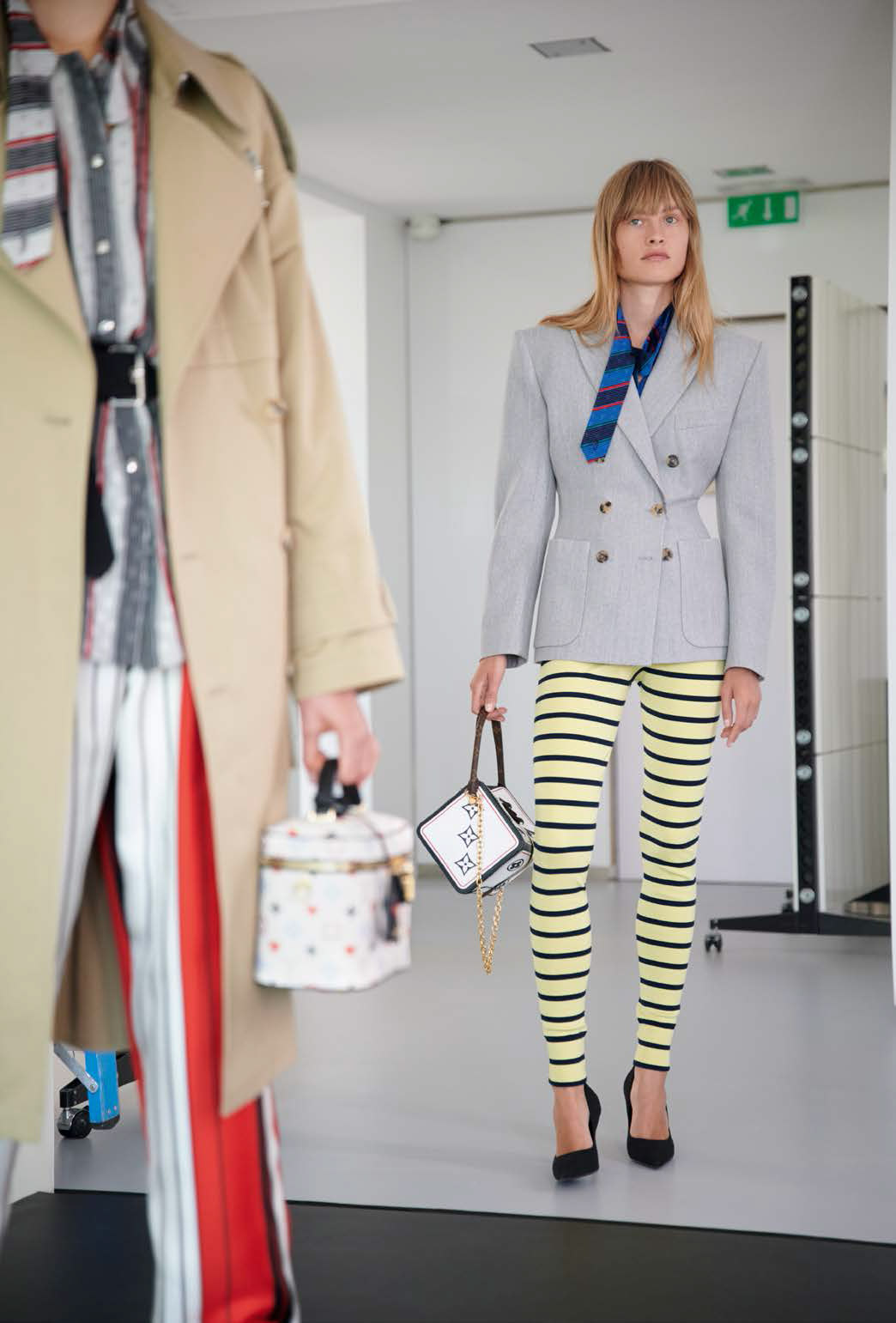 LEE MÁS: MIS ESENCIALES PARA EL VERANO
¿De lo que más me gustó sobre esta propuesta? Cómo Nicolas Ghesquière, el Caballero de las Artes y de las Letras, nos compartió su inspiración desde su estudio en Pont-Neuf, París. El Director Artístico de las Colecciones de Mujer nos abre las puertas de su sede durante la pandemia, al igual que nos adentra en sus mejores épocas vividas, su actualidad y las inimaginables posibilidades que se manifiestarán próximamente. 'Game On' es una colección atrevida, innovadora e imprescindible. Una vez más, Luis Vuitton revela su carta ganadora.
Nicolas Ghesquière, Chevalier de l'Ordre des Arts et des Lettres (Knight of the Order of the Arts and Letters), shares his inspiration from his studio in Pont-Neuf, Paris. The Creative Director for the Women's Collections opens his studio's doors to the public; a place that became so special and personal during the pandemic. Through clothes, he introduces us to his best moments in the past, present and prior to this, the unimaginable possibilities that will come to him in the future. Game On is a daring, innovative and obviously an autumn-winter essential. Once more, Louis Vuitton reveals it's winning card.
Con amor,
XOXO