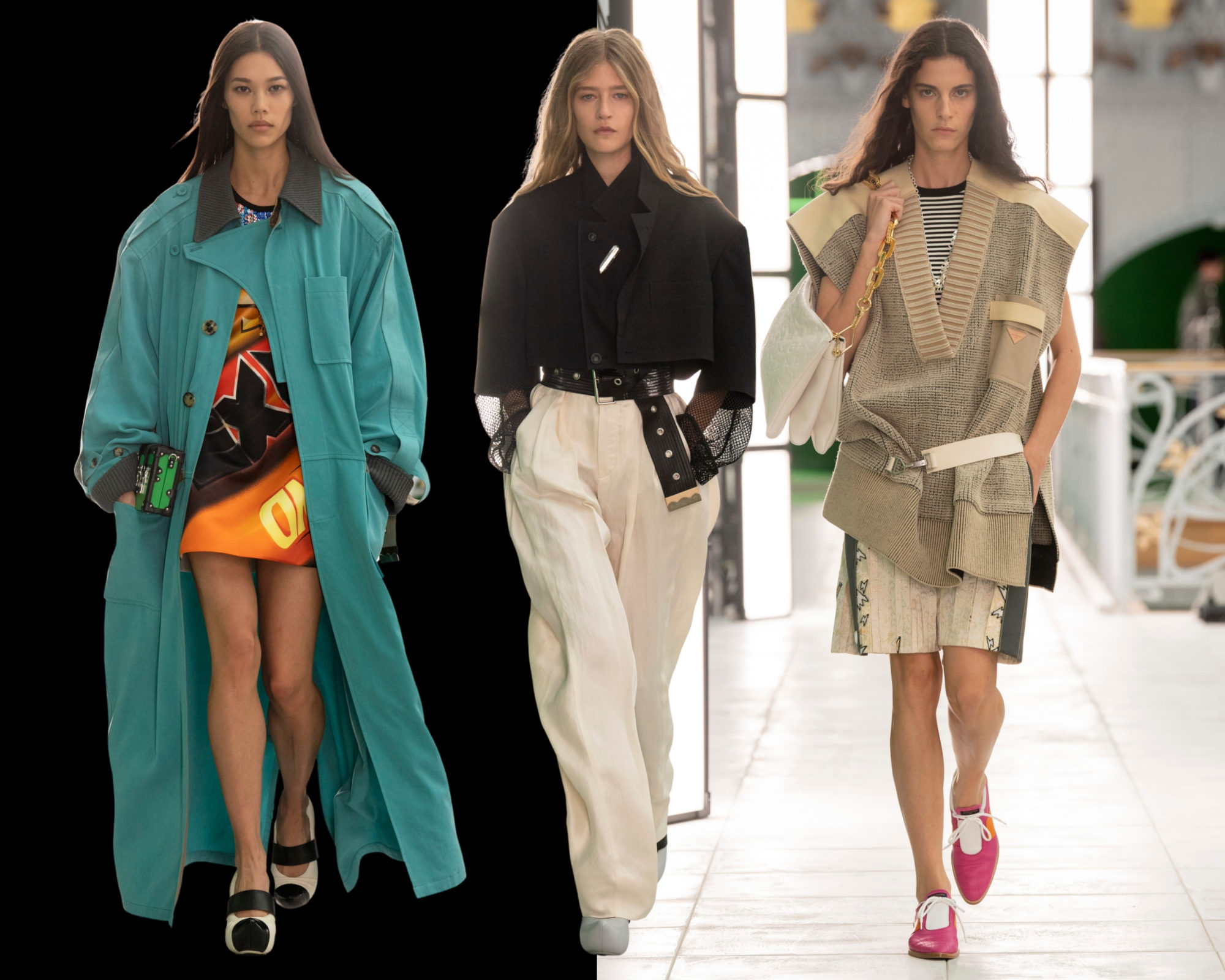 ¡Hola! Los desfiles expuestos vía llamadas de Zoom o cortometrajes increíbles son sin duda una innovación que repercuta en el mundo, tanto de la moda como en el de la tecnología y social. Me encanta la idea de compartir la experiencia de asistir a una pasarela. Louis Vuitton pone en práctica la inclusividad durante la Semana de la Moda Primavera-Verano 2021.
The fashion shows which are exhibited through Zoom calls or incredible short films are such an innovation to the fashion, social and technological world. I love the idea of sharing the experience of attending a runway. Louis Vuitton puts into action the inclusivity during Fashion Week Spring-Summer 2021. For the first time, I feel more excited for watching it online. 
La marca transformó la tienda departamental 'La Samaritaine' en un set de grabación con cámaras de 360 grados y transmitió el sonido en vivo, incluyendo las voces de los invitados para una experiencia sin filtro. La decoración del lugar fueron pantallas verdes en las paredes e incluso en el piso, las cuales proyectaron Wings of Desire por Wim Wender para los livestream viewers. ¿Ven por qué "en línea" fue algo espectacular?
The brand transformed La Samaritaine, a department store into a movie set. 360-degree cameras have been installed and the live sound was transmitted, including the guests' voices for an experience without any filter. The interior decoration consists of green screens on the walls and floor that play Wings of Desire by Wim Wender for the livestream viewers. Can you see why online was better?
LEE MÁS: LOS VESTIDOS PERFECTOS PARA EVENTOS OTOÑALES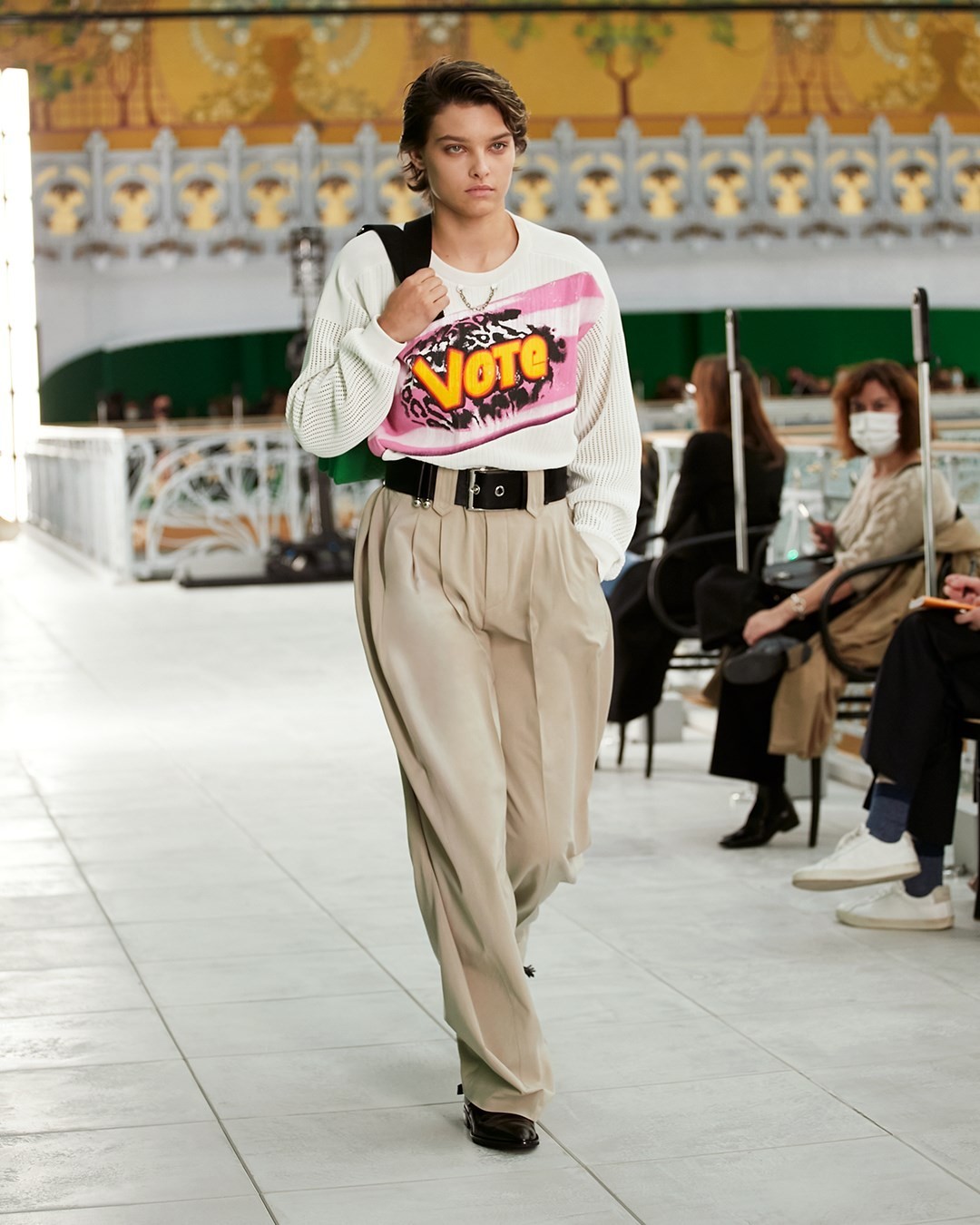 Como mencioné, me encanta que la firma apuesta por trascender en la inclusividad. Nicolas Ghesquière revela una colección sin género. Cada look está diseñado para mujeres y hombres. Amé el exceso de tela en los pantalones estilizados con cinturones grandes. Las mangas voluminosas son mi detalle favorito y las bolsas son completamente infalibles.
As I mentioned, I love how the firm bets on transcending in inclusivity. Nicolas Ghesquière unveils a non-binary collection. Each look is designed for women and men. I liked the fabric excess in pants styled with big belts. Voluminous sleeves are my favorite detail and the bags are always infallible indeed.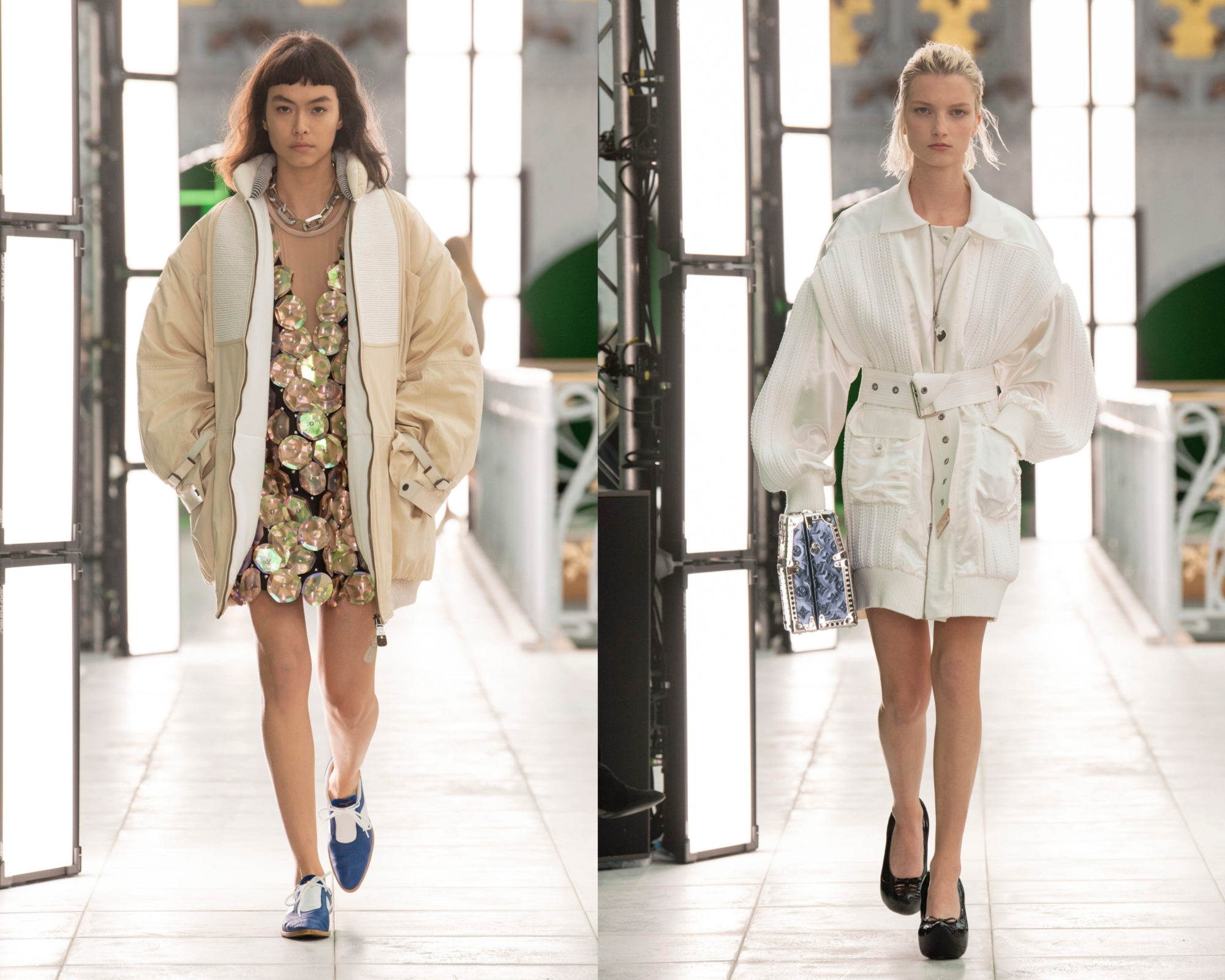 El director creativo abrió el desfile con una modelo usando una camisa sin mangas con la palabra Vote. Los botines negros puntiagudos son mi must para la temporada y quedé enamorada de los mocasines rosas para un look fresco. Este par de zapatos está combinado con un chaleco de punto y después se les da un giro con un vestido de lentejuelas grandes. Las variaciones de colores vivos en los mocasines los convierten en el par ideal para cualquier look.
The creative director opened the show with a model in a "vote" sleeveless shirt. Black ankle booties with pointy toes are my must for this season. I fell in love with the pink loafers for a fresh look. These shoes are paired with a knit vest and next, a twist is given to them with a dress made of huge sequins. The vivid color variations of the loafers make them the ideal shoes for any look. 
LEE MÁS: LOS JEANS QUE SERÁN TUS MEJORES ALIADOS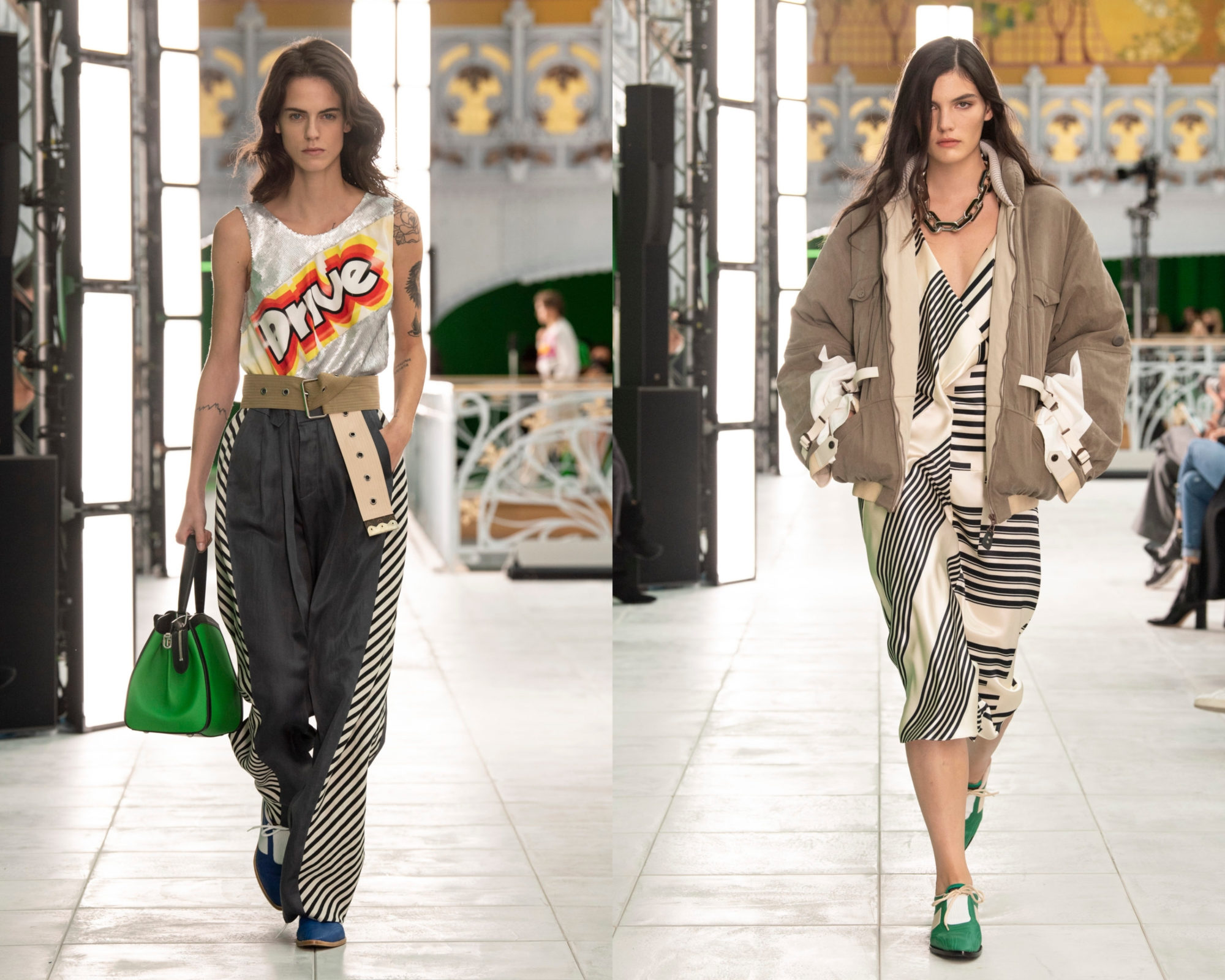 Las chamarras oversized son mi top del momento. Me gusta cómo la marca involucra diferentes texturas y siluetas en cada una. El saco de lentejuelas es la pieza statement que todos necesitamos. Si te gusta ser espontánea, opta por el traje completo con los pantalones plateados. Así mismo, los vestidos ligeros de seda son la pieza clave para una primavera y un verano glamurosos. Las gabardinas son el acompañante más fiel durante la transición de temporada. Me emociona bastante lucir los diseños propuestos por Louis Vuitton; recordar la inspiración y libertad que simboliza cada pieza con muchísimo estilo.
Oversized jackets are my favorite at the moment. I like how the brand mixes different textures with silhouettes in each one. The silver sequin blazer is the statement piece we all need. If you like being spontaneous, get the full suit. Moreover, light silky dresses are the key garment for a glamorous spring and summer. A nice trench coat is the most loyal friend during season transitions. I am very excited about wearing Louis Vuitton's designs; remembering the inspiration and freedom that every garment symbolizes with such style. 
DESCUBRE: MIS 'BRUNCH SPOTS' FAVORITOS EN LA CDMX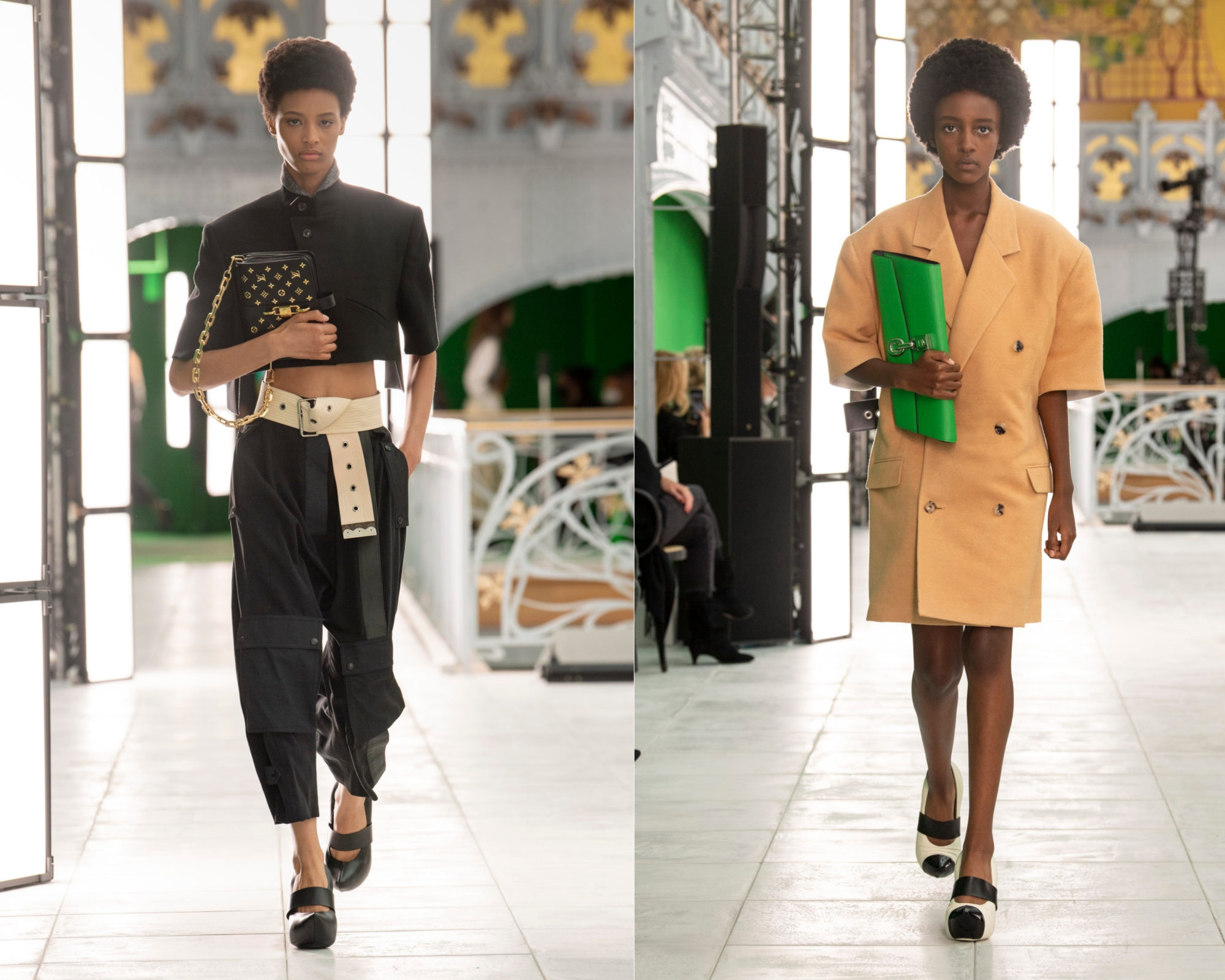 XOXO